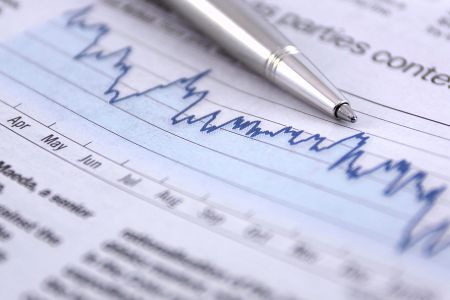 Stocks breakout as the Volatility Index tests support.
**NEW** As part of the ongoing process to offer new and up-to-date information regarding seasonal and technical investing, we are adding a section to the daily reports that details the stocks that are entering their period of seasonal strength, based on average historical start dates.   Stocks highlighted are for information purposes only and should not be considered as advice to purchase or to sell mentioned securities.   As always, the use of technical and fundamental analysis is encouraged in order to fine tune entry and exit points to average seasonal trends.
Stocks Entering Period of Seasonal Strength Today: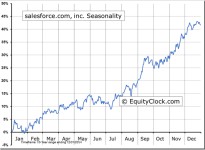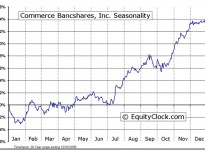 The Markets
Stocks continued their advance on Monday with the S&P 500 Index closing at a new all-time high.  The Dow Jones Industrial Average is around two-thirds of a percent away from a similar achievement, while the Nasdaq Composite would still need to advance almost 5% to attain a similar milestone.  So there is dislocation in the market, in some cases significant, particularly when considering that bonds and stocks are hovering at historical highs.  Turning to the hourly chart of the S&P 500 Index, the benchmark gapped higher from the lower limit of the range of resistance at 2110 on Friday, highlighting an important pivot point.  This level would be expected to act as support upon any retracement attempt.  And while singling out this potential level of support, we'd be remised not to mention the inverse head-and-shoulders pattern that shares the same pivot point.  The pattern calculates a move to 2220, but, as we've seen with recent head-and-shoulders topping patterns, an exact test of the theoretical target should not be relied on; a recent head-and-shoulders topping pattern suggested a move lower to 1975, which came a rather minor 15 points away from being completed near the end of June.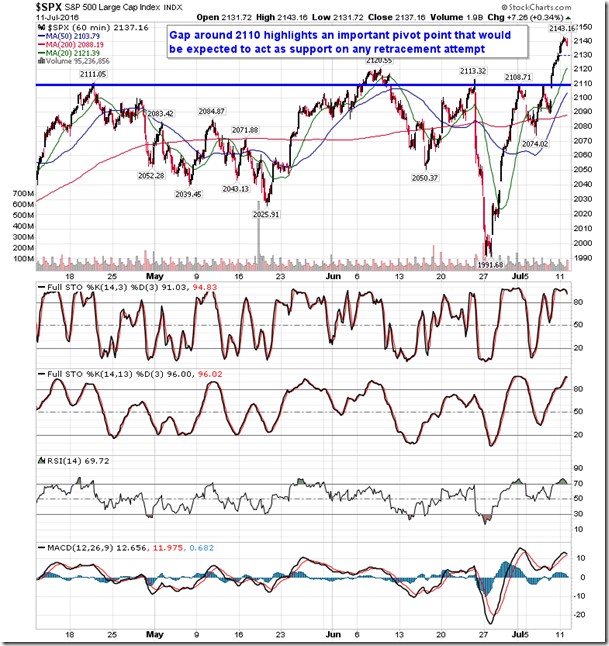 Covering of portfolio hedges that were enacted ahead of the Brexit vote appear to be having an influence on stocks as investors prepare for the next catalyst: earnings.  The put-call ratio hovered in bearish territory for much of June and has now swung bullish (chart at the end of the report).  Even some defensive stocks are showing signs of rolling over, such as those in the Utilities sector.  The shift has taken the Volatility Index (VIX) back down to intermediate support around 12.5, a slight bounce from which was realized during Monday's session.  While holding above 12, a level that has provided definitive signals of complacency throughout the past decade, it has fallen low enough that suggests it may be cheaper to look for protection rather than shedding it.  Remember, markets are entering the most volatile time of year when the VIX typically rises through to October.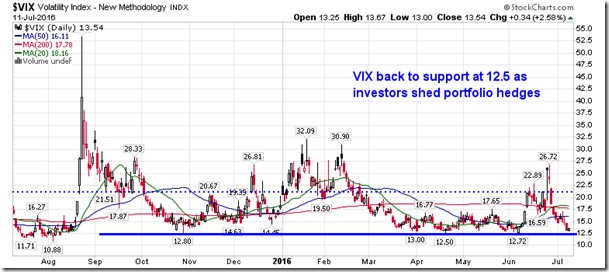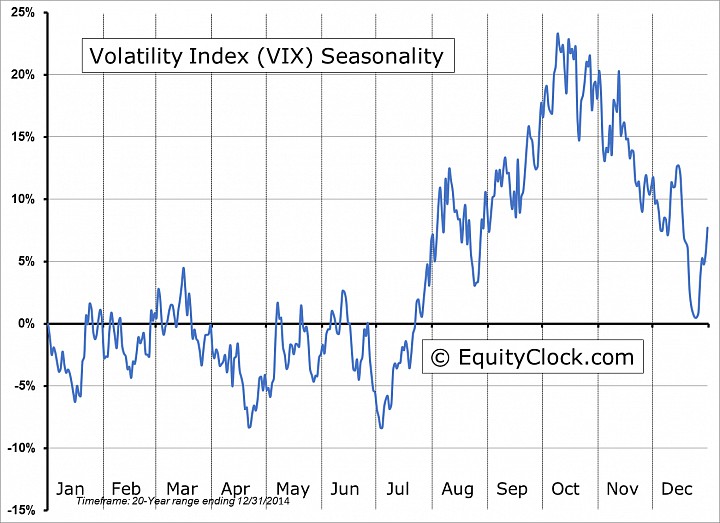 And as the S&P 500 Index attempts to confirm a breakout, a number of benchmarks are just coming upon some significant hurdles.  The Dow Jones Transportation Average, which has been somewhat of a leading indicator to periods of strength and weakness this year, is approaching declining trendline resistance just above its 200-day moving average.  The Russell 2000 Small Cap index is approaching horizontal resistance around 1200, a level that roughly marks the neckline of what could turn out to be a massive head-and-shoulders bottoming pattern.  The small-cap benchmark recently touched support around its 200-day moving average, similar to other benchmarks, fuelling the recent buying frenzy.  Should these more cyclically oriented benchmarks breakout in a bout of risk buying, the next leg higher in stocks would be expected to follow.   Transportation and small-cap stocks remain in a period of seasonal weakness through to October.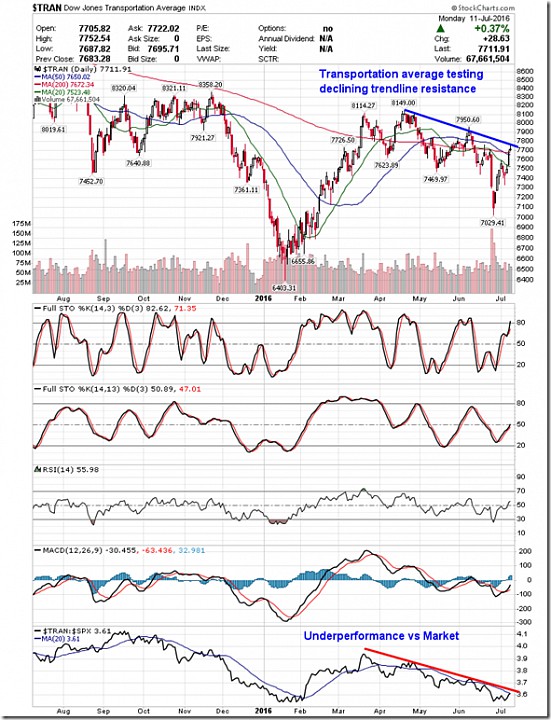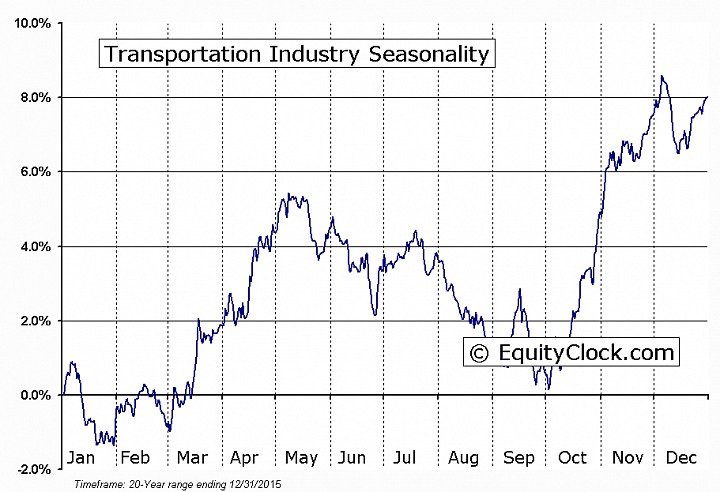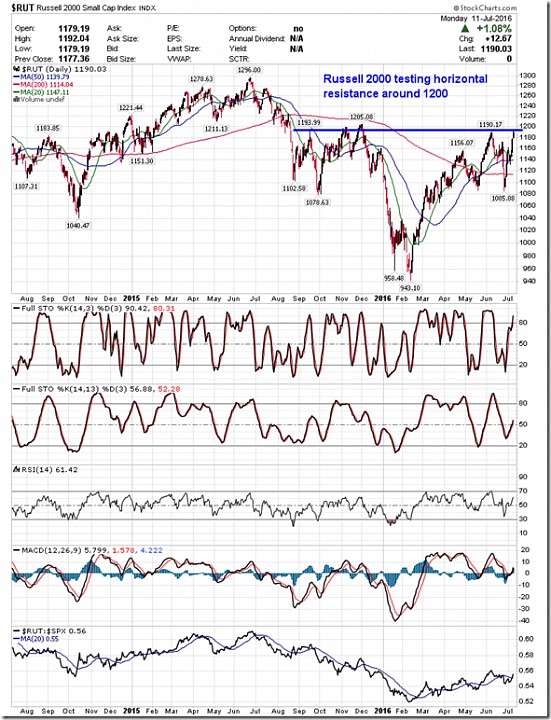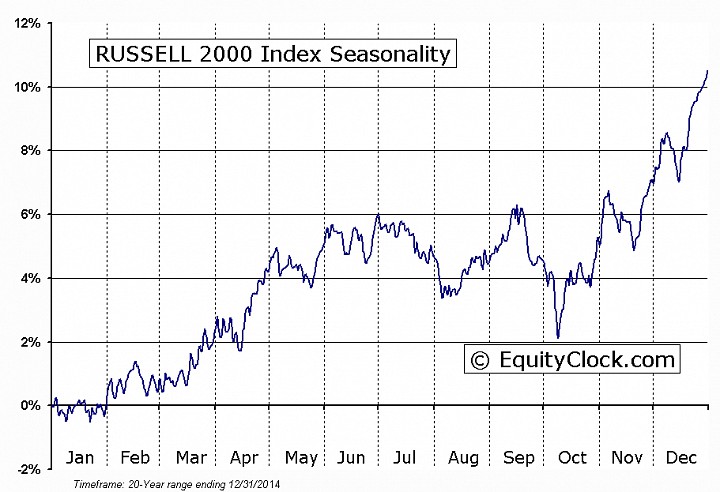 Sentiment on Monday, as gauged by the put-call ratio, ended bullish at 0.76.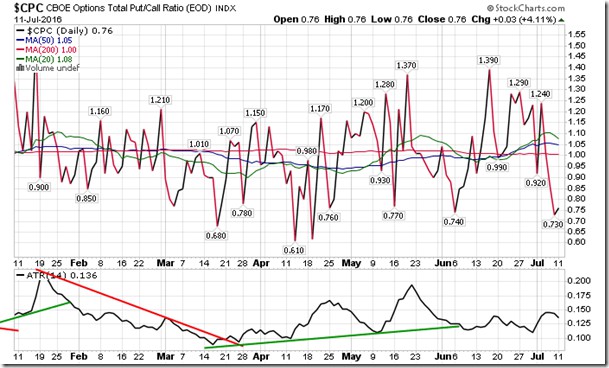 Seasonal charts of companies reporting earnings today:
 
S&P 500 Index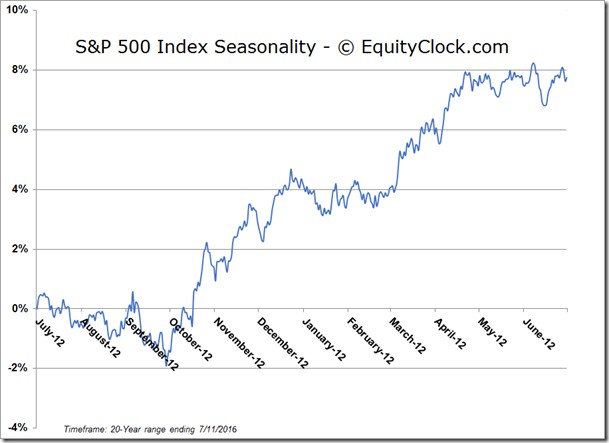 TSE Composite