Kohl's Corp just released its Q1 earnings report. It wasn't bad, but the market reacted with a sharp sell-off. Here's are some highlights from nasdaq.com:
Earnings: KSS posted earnings of 39 cents per share, beating our consensus of 28 cents per share. Investors should note that these figures take out stock option expenses.

Revenue: KSS posted revenues of $3.843 billion, marginally lagging our consensus estimate of $3.864 billion.

Key Stats to Note: Kohl's' comparable store sales decreased 2.7%, as against a decline of 2.2% in the preceding quarter.
Let's take a look at the reaction on the stock price chart.
Koh's (KSS) Daily Chart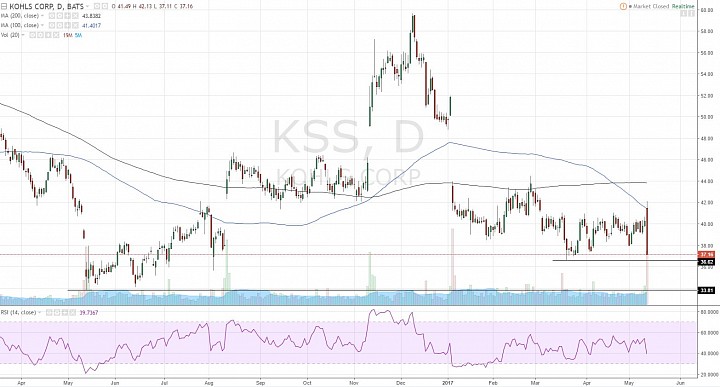 (click to enlarge)
Bears in Charge:
- The daily chart shows a mirror image between the second half of 2016 and the first half of 2017 (more or less). 
- After price failed to tag 60, it has been retreating.
- After breaking below 44 and the 200- and 100-day simple moving averages (SMAs), price has been held under 44 and the SMAs.
- Furthermore, the RSI has been held under 60 after it dipped below 30. 
- This bearish reaction during the 5/11 session, accompanied by strong volume, further confirms the bearish control of this market. 
- We have the 33.80-34 level as the next short-term target. 
- The monthly chart shows that there is downside risk to 24.30.
- We should probably look else where as KOHL is likely to continue its mode of consolidation and bearish correction.