Horizon Pharma is one of my most favorite stocks, I put some money into the stock when it was at $20. Then the company acquired Hyperion Therapeutircs, and the stock went up. I sold it when it was $30, because it was the fair price based on the model I made a while ago. Right now, HZNP is going down because of the weak guidance. Just take a look at their numbers and vision:
With regard to FY16, the company reaffirmed its net sales guidance range of $1.025-1.030 billion, which was in line with the analysts' $1.03-billion estimate, and represents 37% year-over-year (YoY) growth at the range's midpoint. It expects EBITDA to be $505-520 million, which shows a 41% increment.
For the first half, the specialty biopharmaceutical company has provided only percentages. In 1Q, it expects net sales and EBITDA to grow 79% and 114%, respectively, on a YoY basis. In the second quarter, it foresees sales and EBITDA to rise 35% YoY and 45% YoY, respectively. The first-quarter outlook comes in the range of $195-210 million, which trailed the Street's forecast of $228 million.
That's why I have a question to Street's analysts - why do you expect from the company such a significant growth? The company isn't able to keep 40-50% growth rates over the long period of time, especially if it plans to have more than $1B in sales. 
Horizon's portfolio 
Horizon added 3 drugs during 2015 to its portfolio (after my most recent analysis of this stock). Right now its portfolio has the following medicines with relative contributions to the net sales:

As we can see, three of drugs have more than 100% revenue growth, three new drugs contributed more than $245M to the total net sales. Duexis is one of the most important drugs in the portfolio, I expected it to grow 25-35% because thought that customers need some time to get used to it and so on. Actually, this drug proved its efficiency and its sales boomed last year. 
According to IMS Health data, there were over 38 million prescriptions written for ibuprofen in 2014. As we mentioned above, the whole market of Ibuprofen is $4b, more than 4 times bigger than naproxen. The key difference is the usage of this combination which provides a range of advantages, such as rapid onset action, significant reduction in gastric acid levels etc. Main competitor in this field is Advil, marketed by Pfizer. Another competitor with Ibuprofen as a base is Motrin and its modification Motrin IB. The main difference between Duelix and Advil is that Duelix contains a famotidine and active ulcers.
One of the competitors from another group of NSAIDs is Celebrex, marketed by Pfizer. Celebrex has over than $3b in sales during 2013. One year ago in March 2014 U.S. court invalidated Celebrex patent. In the middle of 2014, Teva Pharmaceuticals announced receiving an approval from FDA for generic version of Celebrex. This market faced a tough competiton last year, because 4 companies announced launching of new products with GI agents, including Teva, Mylan and Actavis (source: Medscape Article). But even in this case Duexis gained a significant revenue boost. 
Right now, I don't see any significant treats, analysts expected a significant growth from Duexis this year as well, but as I told, tough competition in this field limits the growth rates. I don't expect a significant boost, but I still believe the company's plans and current portfolio is strong enough to provide a meaningful growth. 
Moreover, the company keeps working on its portfolio and current drugs could be even more efficient than they are right now.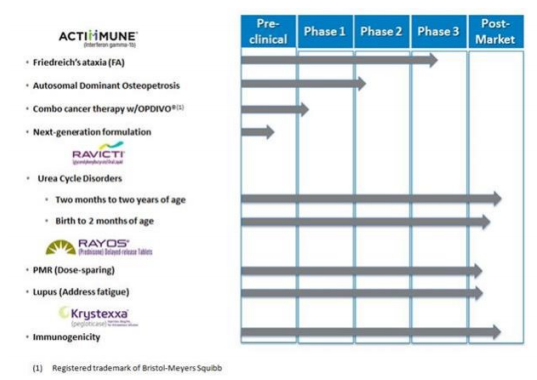 Summary
I don't want to provide any assumptions for the revenue growth and other numbers, but I see that the stock is fundamentally stable and this drop because of weak guidance creates an opportunity for value investors to buy the stock. It's the right time for Horizon to become a value stock. We saw the same situation with LinkedIn earlier this year, when a weak guidance sent it down.