Over the past ten years Gilead Sciences, Inc. has transformed into a huge pharmaceutical powerhouse. The company's sales grew from $1.32 billion in 2004 to $24.5 billion in 2014, which makes a compound annual growth rate to be around 34%. Over the last five years Gilead also generated an average ROA of 25.1% which is almost twice higher than industry's average.
Gilead has a variety of products for different infectious diseases, but its driver and major source of success is the trio of Stribid, Sovaldi and Harvoni.
Harvoni and Sovaldi are the pills designed to treat hepatitis C. They have been extremely successful do far. Harnovi was approved only in October, so it has not contributed largely to the sales yet. Currently, Gilead holds a premier position in treating hepatitis C.
Stribid is the company's newest HIV drug. Though HIV cannot be cured, Stribid allows slowing down its progression. Taking into account that HIV/AIDS is among top infectious diseases around the world, there is a huge market opportunity for Stribid to change people's lives for the better. These drugs are the basis for solid growth prospects of the company.
Another opportunity for Gilead lies in the recent stumble of AbbVie in its efforts to cure hepatitis C. AbbVie, another big player in this area, received safety alerts from the FDA due to the fact that the FDA received several reports about liver failure and other complications from patient that were taking AbbVie's drugs. This caused the shares of AbbVie to go down and boosted the shares of Gilead in turn. If AbbVie is going to lose in this battle for the best drug for hepatitis C, then Gilead is the definite winner with the biggest market share. This again offers big growth opportunities for Gilead and will positively reflect on its stock dynamics.
Gilead took the beat when on September 21st Hillary Clinton in her tweet accused big pharma companies in price gouging. This made Gilead's stock to go down considerably. However, it was already on the way to recovery in the beginning of October.

On October 21st Gilead confirmed that the company is working on an experimental drug for Ebola. This announcement caused the share price to go up by 5.77% the next day and to keep the tendency positive.

On October 27th, Gilead announced its profit for the third quarter, which totaled to $4.84 billion or $3.22 per share. It was by $1.83 billion higher than the results last year. These year's results also exceeded analysts' expectations of $2.89 per share (compiled by Thomson Reuters). This announcement had an immediate positive impact on Gilead's stock.

News from celebrities also had an influence on Gilead's share price. On November 6th, Pamela Anderson posted on her Instagram that she was finally cured from hepatitis C by her new treatment. Although, she didn't particularly say what it was, there is a big chance that it was Gilead's pill. This announcement in turn caused Gilead's stock to go up the next trading day.

Technical analysis results, e.g. Bollinger Bands, may be interpreted as a signal to buy as well, though it really depends on the trader in the situation shown.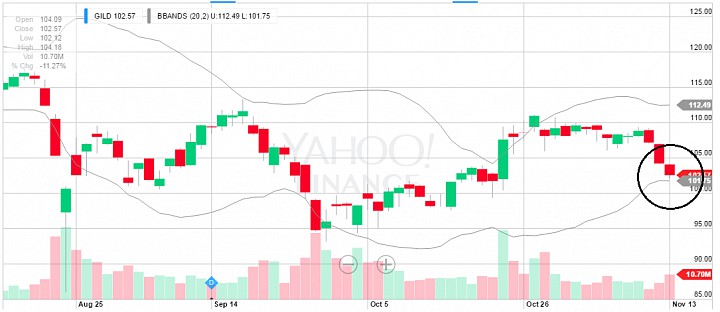 Overall, Gilead represents a good alternative for the long position. Its vast growth opportunities, remarkable financial results and positive feedback from patients make it one of the best players in biotech. The fact that Gilead's shares have outperformed the Nasdaq Biotechnology Index in 2015 and by around 180 percentage points over the last five years makes all the doubt go away.