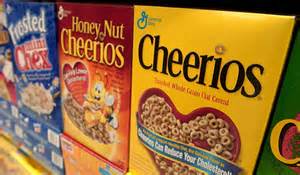 In the investing world, some of the best companies to invest in are the ones with the longest histories of success. While it's frequently said that past performance is never a guarantee of future results, it's also true that a track record means something. One company with a track record that is almost too impressive to believe is General Mills (GIS). Amazingly, General Mills has paid uninterrupted dividends for an astounding 116 years in a row.
General Mills is a company you probably associate with Cheerios and other cereal. Indeed, General Mills has an impressive cereal business. But the company also has a slew of other businesses and has some major brands in its portfolio. In fact, General Mills owns the Pillsbury, Green Giant, and Betty Crocker brands.
Its diverse portfolio of balanced brands across a number of different food categories has provided incredibly steady profits, which the company uses to reward shareholders with dividends. According to the company, General Mills' quarterly dividend has been increased six times in the last five fiscal years. And the dividend has grown at a 12% compound annual rate over that period. This includes a very recent dividend increase. On March 10, General Mills increased its quarterly dividend from $0.41 per share to $0.44 per share, a 7% increase. Because of this, investors interested in dividends should look no further than General Mills.