When markets sell off, it's never orderly and it can be very unsettling. But don't let fear take over your portfolio. A spike in volatility can actually be a healthy thing for the market, it can provide buying opportunities and it's usually temporary. Let's try to keep things in perspective after a tumultuous week.
Investors went on an enormous selling binge of stocks and commodities last week, while adding to their Treasury exposure. As a result, markets hit a number of milestones:
| | |
| --- | --- |
| • | The Dow Jones Industrial Average had back-to-back 300-point drops for the first time since November 2008. |
| • | The S&P 500 fell more than 100 points, or 5%, for the week. It hasn't dropped more than 4% in a week since May 2012, and it hasn't lost 100 points within five days since October 2008. |
| • | The Chicago Board Options Exchange Volatility Index, or VIX, rose more than 25% on Friday and jumped to 28 from 15 over the course of the week. |
| • | Commodity prices dropped significantly, including oil prices, which have fallen 35% from recent highs over concerns that oversupply isn't being matched by demand. Oil even briefly broke through its $40 level on Friday. |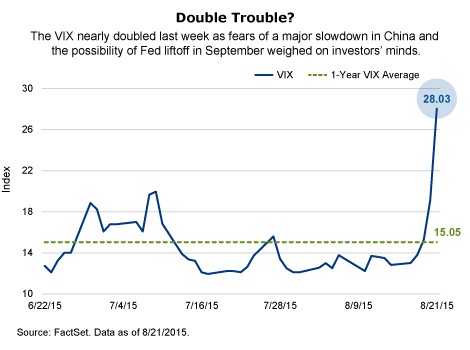 This dramatic selloff shouldn't come as a surprise. Heading into August, we expected much higher volatility with a downward bias. In a recent survey of institutional investors globally, we found that 41% of respondents expected a tail-risk event in the next 12 months. That suggests many investors were looking for a reason to sell. Not only is August typically a bad month for stocks, but also there's a lot of anxiety over a potential interest-rate hike ahead of the September FOMC meeting.
More