Just like yesterday, when the 3Y auction issued $24 billion in paper on substantially better terms than many feared, so today's 10 year auction was even stronger, pricing at 2.461%, 1.3 bps through the When Issued of 2.474%, at a 2.461 Bid to Cover, far better than last month's 2.2370 and the highest since December 2014.
The internal were less notable, with Indirects holdings 57.9%, Directs left with 12.1% and Dealers holding precisely 30%.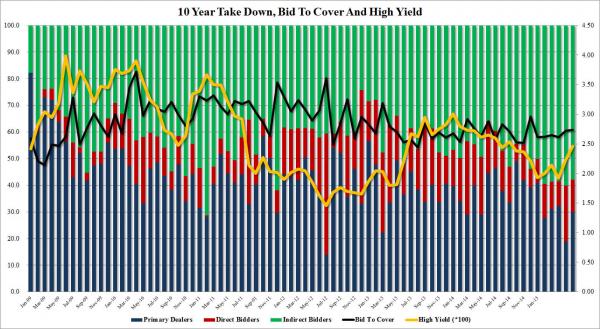 Why the strong auction? Same reason why yesterday's 3Y was also strong. Same reason why every other auction coming on days when there is a substantial short overhang into the auction is strong: shorts were squeezed. As ICAP reported this morning, the repo rateon the OTR 10Y was -0.55% hinting that today's auction would be pleasant to quite pleasant.

To those curious how tomorrow's 30Y auction will do: look at the repo rate on 30Y paper in the morning. If very negative, expect 3 out of 3 impressive auctions for the week.