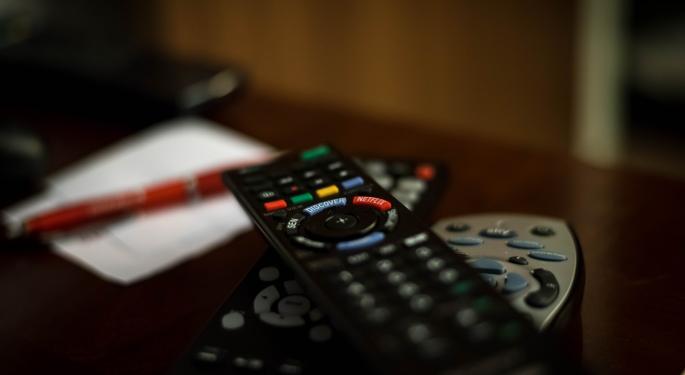 Cling to legacy media at your own peril.
Barclays analyst Kannan Venkateshwar said 31 million homes in the United States could cut the cord on pay television or drastically scale back on such services as more consumers opt for Internet-delivered entertainment.
In a note on Monday, he predicted bundles such as DISH Network Corp DISH 0.63%'s Sling TV, DIRECTV and Alphabet Inc GOOG 1.14% GOOGL 1%'s YouTube TV could pick up 17 million subscribers over the next decade.
"Can legacy media compete for the best shows when viewership is measured in hundreds of millions versus 10 million–20 million at best by legacy media?" he posed. "We likely just finished a quarter with one of the highest pay sub losses in the history of the industry."
CBS, Comcast Ahead Of Curve
"In our opinion, media companies are looking at all forms of distribution from the same narrow lens of affiliate fees. However, there are significant differences in emerging OTT (over-the-top) business models and incentives for new entrants vs legacy distribution," Venkateshwar said.
He said the financial impact of the loss of subscribers from traditional pay TV to less-expensive bundles could be a $13 billion drop in affiliate fees over the next 10 years.
"Eventually, we believe some OTT models will become indistinguishable from legacy media while others will result in consumers watching TV without realizing that it is the activity that they are engaged in," he said.
"We believe media companies should adapt content to distribution instead of the other way around, use a 'barbell strategy' for distribution and tier services based on experience instead of content," he said.
"In terms of models that face the most challenges, it is tough for us to imagine a world where all the 200-plus cable networks in existence today remain viable."
Also on Monday, Leichtman Research Group said in a new study that 64 percent of U.S. households have a subscription video-on-demand service from Netflix, Inc. NFLX 0.21%, Amazon.com, Inc. AMZN 1.59% and/or Hulu up from 47 percent in 2014.
The report said 51 percent take more than one of those services, up from 35 percent in 2014. The study was based on a survey of 1,207 consumers 18 years or older in the continental United states.
© 2017 Benzinga.com. Benzinga does not provide investment advice. All rights reserved.
Source