Following the surprise dovish FOMC dot-downgrade to counter hawkish 'patience removal', and this morning's admission by Dudley that The Fed is Dow-Data-Dependent; expectations for the FOMC Minutes offering any insights were low...
*FED OFFICIALS FAVORING LIFTOFF LATER IN 2015 CITED DOLLAR, OIL, CHINA, GREECE
*FED OFFICIALS WERE SPLIT ON JUNE RATE RISE, FOMC MINUTES SHOW
*MOST OFFICIALS SAW RISKS TO OUTLOOK, JOB MKT NEARLY BALANCED
So "worried" about the world, "downside" risk to growth but reasons to be cheerful, unpatient and data-dependent liftoff... something for everyone.
Pre-FOMC Minutes: S&P 2079, 10Y 1.89%, EURUSD 1.0815, Gold $1206
*A FEW FED OFFICIALS SAID USD MAY RISE MORE ON POLICIES OVERSEAS
*FED OFFICIALS REPEATED THAT CHINA, GREECE WERE POTENTIAL RISKS
*A FEW FED OFFICIALS SAID USD MAY RISE MORE ON POLICIES OVERSEAS
*MINUTES SHOW ALMOST ALL FED OFFICIALS NOTED RISKS FROM OVERSEAS
*SEVERAL FED OFFICIALS EXPECTED A FAIRLY GRADUAL TIGHTENING PACE
*SEVERAL FED OFFICIALS SAW DOLLAR AS A DRAG ON EXPORTS, GROWTH
*SEVERAL FED OFFICIALS JUDGED A JUNE LIFTOFF WOULD BE WARRANTED
*FED MINUTES SHOW OTHER OFFICIALS FAVORED LIFTOFF LATER IN 2015
*  *  *
Some of the key sections.
On the great debate of a "liftoff" in June versus a delay to 2016:
Participants expressed a range of views about how they would assess the outlook for inflation and when they might deem it appropriate to begin removing policy accommodation. It was noted that there were no simple criteria for such a judgment, and, in particular, that, in a context of progress toward maximum employment and reasonable confidence that inflation will move back to 2 percent over the medium term, the  normalization process could be initiated prior to seeing increases in core price inflation or wage inflation. Further improvement in the labor market, a stabilization of energy prices, and a leveling out of the foreign exchange value of the dollar were all seen as helpful in establishing confidence that inflation would turn up. Several participants judged that the economic data and outlook were likely to warrant beginning normalization at the June meeting. However, others anticipated that the effects of energy price declines and the dollar's appreciation would continue to weigh on inflation in the near term, suggesting that conditions likely would not be appropriate to begin raising rates until later in the year, and a couple of participants suggested that the economic outlook likely would not call for liftoff until 2016.
On "exports", and the USD strength:
In their discussion of language for the postmeeting statement, the Committee agreed that the data received over the intermeeting period suggested that economic growth had moderated somewhat. One factor behind that moderation was a slowdown in the growth of exports, and members decided that the statement should explicitly note that factor.
On the strength of the dollar:
A number of participants cited the further appreciation of the dollar and recent weakness in spending and production data as reasons for their revision.
On the pace of normalization:
Some participants emphasized that the stance of policy would remain highly accommodative even after the first increase in the target range for the federal funds rate, and several noted that they expected economic developments would call for a fairly gradual pace of normalization or that a  data-dependent approach would not necessarily dictate increases in the target range at every meeting.
On "international" developments, and even Greece makes an appearance:
Participants pointed to a number of risks to the international economic outlook, including the slowdown in growth in China, fiscal and financial problems in Greece, and geopolitical tensions.
And the most important topic: why the Fed will never reduce its balance sheet:
Many participants mentioned that selling assets that will mature in a relatively short time could be considered at some stage, if necessary to reduce ON RRP usage. However, a number of participants noted that it could be difficult to communicate the reason for such sales to the public, and, in  particular, that the announcement of such sales would risk an outsized market reaction, as the public could view the sales as a signal of a tighter overall stance of monetary policy than they had anticipated or as an indication that the Committee might be more willing than had been thought to sell longer-term assets.
Finally, it seems, the Minutes failed to include the real Fed Dot Plot once again...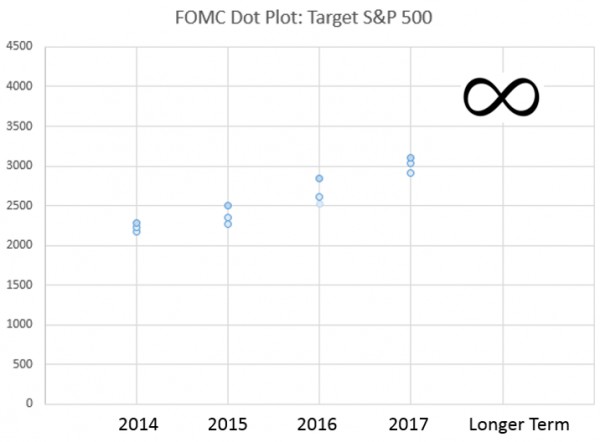 Courtesy of @Not_Jim_Cramer
The full minutes (link):