Gunmaker Smith & Wesson (NASDAQ:SWHC) has rallied more than 70% over the past 12 months, as concerns about tighter gun control laws sparked higher firearm sales. The number of NICS background checks for firearm purchases has risen annually for 15 straight months, and year-to-date checks through July have already hit 16.03 million -- indicating that total checks for 2016 should surpass the 21.14 million checks in 2015.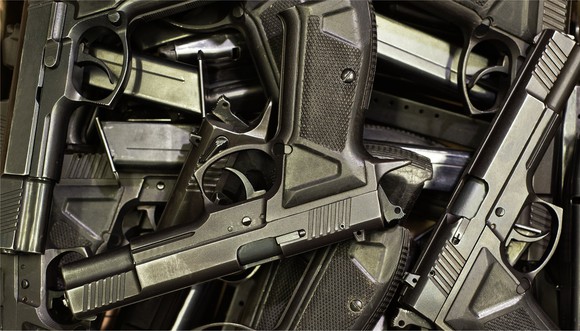 Smith & Wesson is a controversial investment, because its stock usually rallies after mass shootings in America. 63 people were killed and 75 were wounded in mass shootings so far this year, according to Mother Jones, making it the deadliest year since 2012, when 67 people were killed and 68 were wounded.
But controversies aside, it's hard for investors to ignore Smith & Wesson's long-term growth. Between fiscal 2011 and 2016, the gunmaker's annual revenue more than doubled. Will that growth continue, or will Smith & Wesson be derailed by the incoming headwinds in the gun market?
How fast is Smith & Wesson growing?
Smith & Wesson's full-year sales rose 31% annually to $723 million last year. Firearm sales rose 24% to $658 million, and accessory sales -- boosted by its acquisition of BTI -- more than tripled to $65.3 million. However, the company expects sales for the current year to rise just 2% to 5%. Analysts are more bullish and expect almost 7% growth. By comparison, Sturm Ruger's (NYSE:RGR) revenue rose just 1% to $551 million last year. The company doesn't provide forward guidance, but analysts anticipate 13% sales growth this year.
The disparity between Smith & Wesson and Sturm Ruger's growth can be attributed to the former's heavier exposure to assault rifles. Assault rifle sales have risen rapidly in response to proposed assault rifle bans, but if the government clamps down on those sales (more likely under a Clinton presidency), Smith &...
More