From the moment Japan opened, USDJPY buying took off (standard 100 pip rip on absolutely no news whatsoever) as yet another manipulated market breathed new life into equity longs dreams. That 'help' combined with the fact that, as SCMP's George Chen reports, 50 China brokerages will jointly contribute 100 bln RMB capital to the government margin finance agency to start "new round of market rescue" provided some stability after US markets' collapse. However, tonight's big news appears to be a major crackdown on leverage as MNI notes regulators ordering brokerage houses to clear all non-official margin trading services - not just halting new clients but also closing existing accounts. Chinese stocks are opening modestly lower as PBOC fixes Yuan stronger for the 4th day in a row. Finally, China credit risk has spiked to 2-year highs as traders increase positions dramatically. The manipulation will continue through tomorrow at least when Parade Week peaks, so buckle up.
Japan "rescued"... "Mysterious"? - Large USD/JPY Buyer Seen Before Nikkei Index Opened: Traders
China "Stability?"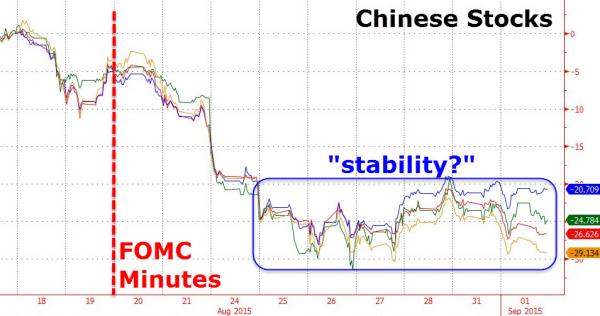 Though some weakness at the Chinese open:
*FTSE CHINA A50 SEPT. FUTURES DROP 0.7% IN SINGAPORE
*CHINA'S CSI 300 STOCK-INDEX FUTURES FALL 2.2% TO 2,939.8
*SHANGHAI COMPOSITE INDEX SET TO OPEN 4.4% LOWER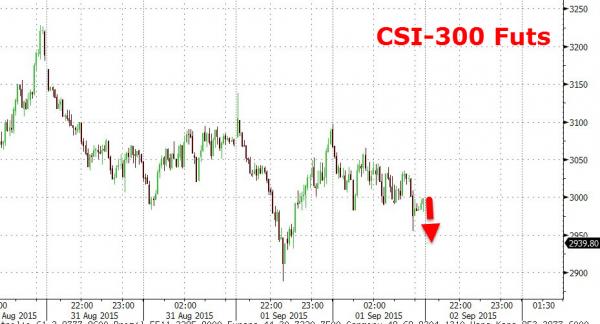 And then PBOC Strengthens Yuan:
*CHINA SETS YUAN REFERENCE RATE AT 6.3619 AGAINST U.S. DOLLAR
*CHINA RAISES YUAN REFERENCE RATE FOR FOURTH DAY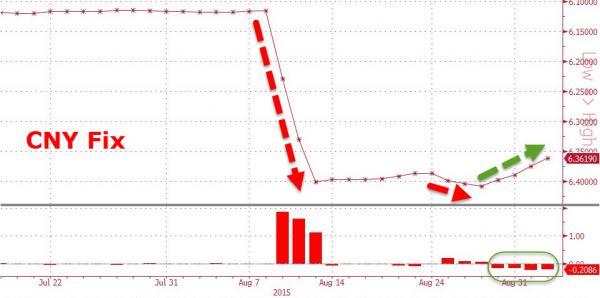 And loses controil of money markets:
*CHINA OVERNIGHT MONEY-MARKET RATE RISES 18 BPS TO 2%
This is the biggest 4-day strengthening in 5 years!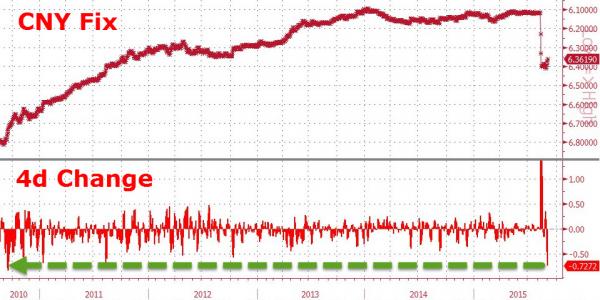 But tonight's big news appears be a major clampdown on margin trading (as MNI reports),
China's stock market regulator has issued a circular ordering brokerage houses to clear all non-official margin trading services jointly provided with a third party -- not just halting new clients but also closing existing accounts.

 

Chinese brokerage houses were allowed to offer margin trading services in 2010 but strong stock market performance since last year saw many third parties also providing margin trading services with help from brokerage houses. Beijing realized the potential threat of these fast-growing margin trading services, particularly unofficial ones, and started to push for market deleveraging in late-June this year, contributing to the stock market rout which saw Shanghai Composite Index lose nearly 40% since.
Even as margin debt drops to a fresh 9-month low...
*SHANGHAI MARGIN DEBT BALANCE FALLS FOR 11TH STRAIGHT DAY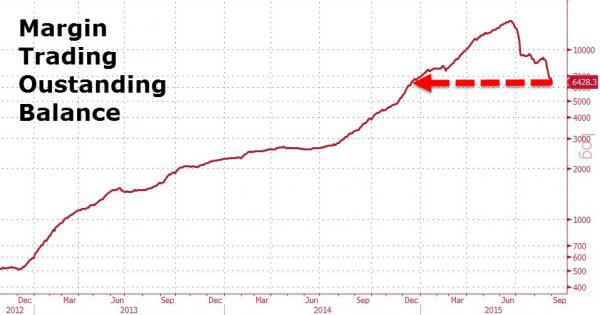 The very same brokerages that are seeing executives detained and are being told to shut down margin trading have also provided funds for rescuing the government market...
Chinese brokerage houses are providing more funds to the China Securities Finance Corp for stock market intervention.

 

Many listed brokerage houses issued statements last night saying they were giving no more than 20% of their net assets to CSFC, which will use the money to set up a special account for investment in blue chip stocks. These firms include CITIC Securities, which said it's giving another CNY5.4 billion to CSFC. CITIC Securities is at the center of a regulatory storm as many of its senior executives are being investigated by police and Chinese investors have been questioning if CITIC was a key player among short sellers that caused the recent stock market rout.

 

Besides CITIC, several other brokerage houses which are contributing new funds to CSFC, have also said they are being investigated by the stock market regulator.
Followed by more talk..
*CHINA EXPORTS MAY RISE 2% IN 2015; IMPORTS SEEN DOWN 10%: NEWS
*CHINA HAS ROOM FOR FURTHER RATES, RRR CUTS: SECURITIES NEWS
*CHINA SHOULD MAKE FUND TO SUPPORT SMALL CO. MARKET-ORIENTED: LI
*CHINA PREMIER LI KEQIANG COMMENTS ON 60B YUAN SMALL CO. FUND
Then - now that China is flush with cash again apparently, it decided to help out Venezuela...
*VENEZUELA SIGNS $5B LOAN W/CHINA TO BOOST OIL PRODUCTION:MADURO
But, not everyone is happy, as Bloomberg reports,
China-focused hedge funds probably had their worst month in almost 16 years in August, with firms including Orchid Asia Group Management and APS Asset Management Pte suffering losses from the nation's stock market collapse.

 

"Greater China hedge funds are on track to show the worst three month returns in at least a decade," said Mohammad Hassan, an analyst with Eurekahedge in Singapore. "It's not a surprise given the funds' limited ability to short the stock markets in China."
And finally, it appears traders are hedging China credit risk in size...
Open positions in China's credit-default swaps increased by 212 contracts to 9,444 in the week ended Aug. 28, according to latest data from DTCC.

 

 

 

That's the biggest increase among global sovereign CDS; gross notional amount rose $1.31b last week

 

 

Among Asian sovereigns, South Korea's CDS had second-biggest increase in positions last week, with outstanding amount up 137 contracts, or $1.10b in gross notional value
Charts: Bloomberg