After a week full of abysmal news for Tesla, which some have said is rapidly becoming the new Uber on the bad-to-worse news front, the weekend couldn't come fast enough for Elon Musk who by now is begging for the simple
https://twitter.com/elonmusk/status/872260000491593728
"a little red wine, vintage record and some Ambien."
A little red wine, vintage record, some Ambien ... and magic!

— Elon Musk (@elonmusk)

https://twitter.com/elonmusk/status/872260000491593728
But before that can happen, there is even more bad news for the electric car company which today entered a bear market after hitting all time highs just 2 weeks ago: according to Reuters, Tesla registrations in California - by far the largest market of the luxury electric car maker - fell 24% in April from a year ago, based on IHS Markit data. The latest report showing a plateau for Tesla's products comes amid both investor concerns that demand for Tesla's luxury Model S sedan is waning ahead of the mass market Model 3 launch, the sales of its Model X actually declined...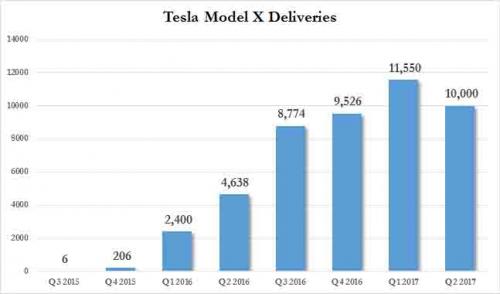 The punchline: IHS reported April Tesla registrations fell to 2,177 from 2,867 in California...
More