PepsiCo, Inc. PEP reported better-than-expected results in second-quarter 2017 (ending Jun 17), with both earnings and revenues beating the Zacks Consensus Estimate.

Earnings

PepsiCo's second-quarter core earnings per share (EPS) of $1.50 beat the Zacks Consensus Estimate of $1.40 by 7.1%. Core earnings grew 10% year over year. In constant currency terms, adjusted earnings grew 13%. The upside was primarily driven by higher pricing, partly offsetting the weak demand.

Core earnings exclude restructuring and impairment charges and commodity mark-to-market net impact. Reported earnings came in at $1.46 per share, reflecting an increase of 6% year over year. Foreign exchange translation had an adverse impact of 2% on reported EPS.

Sales

Total sales improved 2% year over year to $15.71 billion. Although foreign exchange (Fx) hurt revenue growth by 1.5%, pricing had a positive impact of 3% on revenues. Reported revenues surpassed the Zacks Consensus Estimate of $15.64 billion by 0.4%.

Excluding the impact of Fx, revenues increased 3.1% on an organic basis, primarily driven by higher demand for beverages/food/snacks in Latin America and Europe Sub-Saharan Africa. Notably, organic sales growth was higher than the 2.1% rise recorded in the previous quarter.

Total volumes remained flat during the quarter, same as witnessed in the previous quarter. While organic snacks/food increased 2% (higher than 1% growth witnessed in the first quarter), beverage volumes dropped 2%.

Quarterly Segment Details

Revenues grew 3% at the Frito-Lay segment, 2% at North America Beverages (NAB), and 6% at both the Latin America as well as the Europe Sub-Saharan Africa (ESSA) segments. However, revenues declined 1% in its Quaker Foods and 8% in its Asia, Middle East and North Africa (AMENA) segments.

Operating profits increased 6% in its Frito-Lay segment, 2% in NAB and by a significant 49% in ESSA. However, operating profits decreased 6% and 19% in Latin America and AMENA divisions, respectively.

Margins

Core gross margins contracted 5 basis points (bps). However, core operating margin expanded 50 bps. The sale of minority stake in Britvic plc positively impacted core operating margin.

Financials

Cash and cash equivalents were $10,282 million as of Jun 17, 2017, up from $9,158 million as of Dec 26, 2016. Long-term debt was $31,205 million at the end of the quarter, increasing from $30,053 million as of Dec 26, 2016.

Net cash provided by operating activities were $2,241 million in the first six months of 2017 compared with $3,107 million a year ago.

2017 Guidance

PepsiCo lifted its core EPS forecast to $5.13 from $5.09 expected earlier. The company expects core EPS growth of 8% offset by 2% negative impact (previously expected to be 3%) from the Fx translation implying $5.13 EPS for 2017. The company now anticipates foreign exchange to have less negative impact on core earnings than previously expected.

Excluding headwinds from currency and structural changes, organic revenues are expected to rise 3%. Currency is projected to hurt revenues by 2%, while the 53rd week in 2016 is expected to hurt sales by 1%.

Also, management plans to return $6.5 billion to shareholders through dividends and share repurchases. Free cash flow is estimated to be around $7 billion.

The company currently holds a Zacks Rank #3 (Hold). You can see the complete list of today's Zacks #1 Rank (Strong Buy) stocks here.
Pepsico, Inc. Price, Consensus and EPS Surprise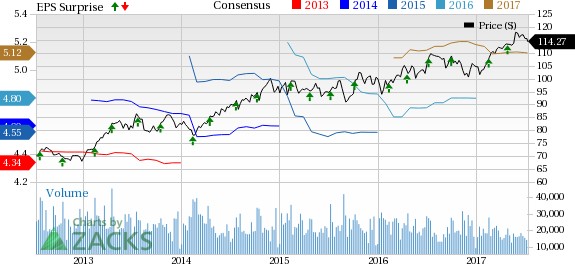 Pepsico, Inc. Price, Consensus and EPS Surprise | Pepsico, Inc. Quote
Upcoming Peer Releases

The Coca-Cola Company's KO is scheduled to report quarterly results on Jul 26.

Dr Pepper Snapple Group Inc. DPS is slated to report quarterly results on Jul 27.

Monster Beverage Corp. MNST is expected to report quarterly results on Aug 3.

More Stock News: 8 Companies Verge on Apple-Like Run

Did you miss Apple's 9X stock explosion after they launched their iPhone in 2007? Now 2017 looks to be a pivotal year to get in on another emerging technology expected to rock the market. Demand could soar from almost nothing to $42 billion by 2025. Reports suggest it could save 10 million lives per decade which could in turn save $200 billion in U.S. healthcare costs.

A bonus Zacks Special Report names this breakthrough and the 8 best stocks to exploit it. Like Apple in 2007, these companies are already strong and coiling for potential mega-gains. Click to see them right now >>
Want the latest recommendations from Zacks Investment Research? Today, you can download 7 Best Stocks for the Next 30 Days.
Click to get this free report
Coca-Cola Company (The) (KO): Free Stock Analysis Report
Dr Pepper Snapple Group, Inc (DPS): Free Stock Analysis Report
Pepsico, Inc. (PEP): Free Stock Analysis Report
Monster Beverage Corporation (MNST): Free Stock Analysis Report
To read this article on Zacks.com click here.
Zacks Investment Research