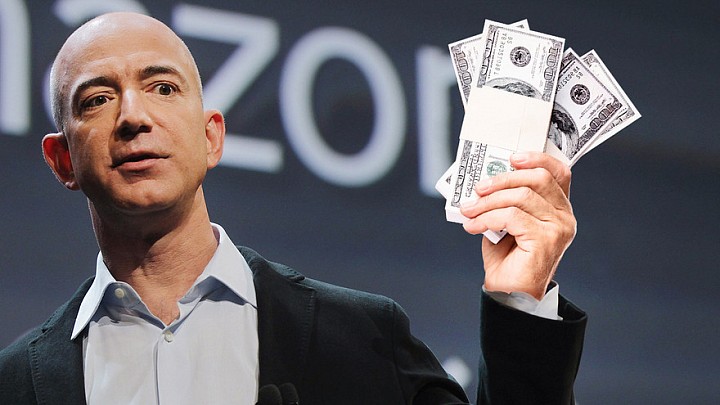 Technology companies have been dominating the news and investors' attention, and a series of earnings reports Thursday afternoon showed why.
Four of the most valuable tech companies in the world—Amazon.com Inc. AMZN, -0.05% , Google parent company Alphabet Inc. GOOGL, +0.00% GOOG, -0.08% Microsoft Corp. MSFT, +0.17% and Intel Corp. INTC, +1.40% —destroyed expectations for profit and revenue in third-quarter reports Thursday afternoon, collectively bringing in about $2.2 billion more profit and $19 billion more revenue than the same quarter a year ago. Stock in those four companies jumped across the board in late trading, which would make them worth even more than the combined market cap of nearly $2 trillion they enjoyed at the end of Thursday's trading session.
— Alphabet had perhaps the most astounding beat of the afternoon, as profit rose $1.12 billion and revenue $9.5 billion from the year before. The Google parent company reported third-quarter net income of $6.73 billion, or $9.57 a share, on revenue of $27.8 billion. That performance destroyed forecasts, as analysts on average expected Alphabet to report earnings of $8.31 a share on revenue of $26.9 billion. In a conference call, Alphabet Chief Financial Officer Ruth Porat credited mobile search, the Google Cloud Platform and Google's expanded hardware efforts for boosting the company, as well as YouTube. The company's stock rise in late trading but it close to a $700 billion market cap, which would make it only the second company in U.S. history to achieve that mark, after Apple Inc. AAPL, +0.64%
— Amazon enjoyed the largest initial stock pop in after-hours trading of the four after the e-commerce giant produced an unexpectedly large profit. Amazon investors and analysts were understandably expecting small profits after the company's earnings plunged 77% in the previous quarter and executives were unapologetic about their free-spending ways before turning around and buying Whole Foods Market Inc., a lower-margin business. While profit has never been Amazon's strong suit, the company has managed to steadily boost its huge revenue totals, and that paid off in the third quarter. Amazon increased revenue by $11.03 billion from the third quarter of 2016, to a record quarterly total of $43.7 billion, to post the same earnings as last year's third quarter, 52 cents a share. It expects to easily break that record in the current quarter, projecting holiday-season sales of $56 billion to $60.5 billion, easily higher than analysts were estimating.
— Microsoft recently topped a $600 billion market cap for the first time since the dot-com boom, and shares headed to record levels in late trading Thursday after the company destroyed estimates with growth mostly credited to the cloud. The company reported its fiscal first-quarter earnings rose to $6.58 billion, or 84 cents a share, from $5.67 billion, or 72 cents a share, a year earlier. Revenue grew $2.2 billion to $24.5 billion total. Analysts surveyed by FactSet had projected earnings of 71 cents a share on revenue of $23.52 billion.
— Intel is the oldest of this bunch of companies, helping to establish the San Francisco Bay Area as Silicon Valley thanks to its pioneering semiconductors. The chip maker, though, has experienced trouble growing its profit and revenue as it missed the boat on mobile and personal computers became less important. So while Intel's increasing revenue and profit may have looked small when compared with Amazon, Microsoft and Alphabet, it could be more important to the company in the long run, as the world's largest chip maker looks to new areas for growth. The company reported third-quarter net income of $4.52 billion, or 94 cents a share, compared with $3.38 billion, or 69 cents a share, in the year-ago period. Revenue rose to $16.15 billion from $15.78 billion in the year-ago period, and Intel raised its full-year outlook for adjusted earnings to $3.25 a share, plus or minus 5 cents, and revenue to $62 billion, plus or minus $500 million.
Not all tech companies were as fortunate Thursday, in a busy afternoon for earnings, showing a definite divide between the largest tech companies and those struggling to compete. Chinese internet giant Baidu Inc. BIDU, -0.92% also showed a gargantuan increase in profit, but its forecast for the current quarter sent its stock tumbling, while Expedia Inc. EXPE, -0.37% dropped more than 8% after missing profit and revenue expectations.
More