Is cable still bearish? I think for the most part we should err on the side that GBP/USD is bearish. From the technical standpoint the market continues to make lower highs and lower lows as seen in the 4H chart.
GBP/USD 4H Chart 10/22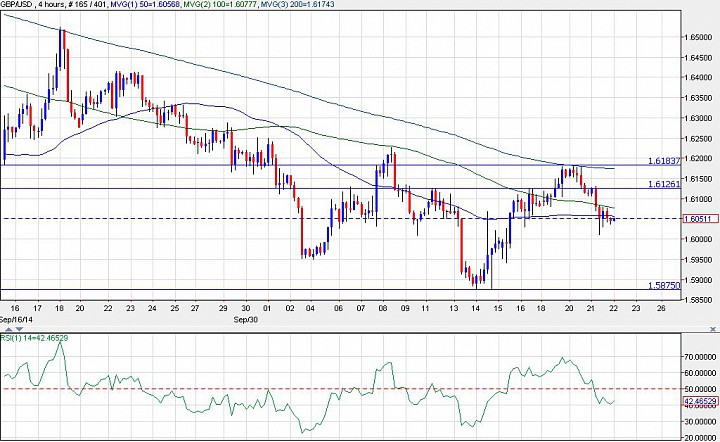 (click to enlarge)
However, it has recently made a bullish swing from 1.5875 to 1.6183. This rally pushed above the 100-, and 50-period SMA in the 4H chart, while pushing the 4H RSI to 70. This shows some loss of bearish bias and reflects some very short-term bullish momentum.
The thing is, this rally was stopped short at 1.6183, below the October high and under the 200-period SMA. It has retreated since. Now price is threatening to break below the 50-period SMA, and the 4H RSI is threatening to break below 40.
If price falls below the key psychological level of 1.60 and the 4H RSI dips below 40, GBP/USD is likely in a bearish continuation. We might have some support around 1.5950. Watch for a near-term pullback, and if that pullback is weak and sellers prevent it from going above 1.61, the bearish outlook should still be in play.

Bullish correction scenario:
This week, failure to break below 1.60 and a rally above 1.6130 should put pressure back to the 1.6183 high with a bullish correction scenario in play.