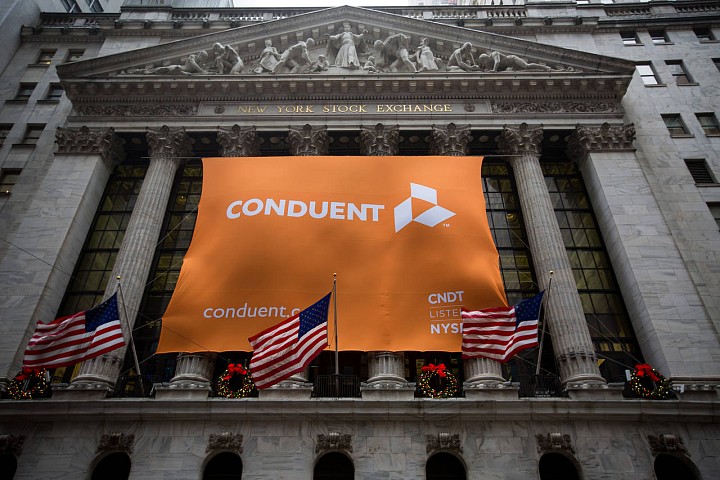 Michael Nagle/Bloomberg
This article first appeared on SumZero, the world's largest research community of buyside investment professionals. In some cases Barron's edits the research for brevity; professional investors can access the full version of this thesis and tens of thousands of others at SumZero.com.s
Disclaimer: The author's fund had a position in this security at the time of posting and may trade in and out of this position without informing the SumZero community.
Conduent is a self-help, margin and multiple-expansion story in the short term, and a compounder in the long term.
Thesis
Conduent (ticker: CNDT) is a recent spin-off from Xerox (XRX) in the business processing outsourcing (BPO) industry. Conduent is undergoing an operational turnaround to capture the low-hanging fruit of margin-expansion and about 2-5 times turns of multiple-expansion. Longer-term investors capture the free optionality of a company with a dominant yet small 2.5% market share, scaling their platforms across an industry with a $260 billion total addressable market (TAM), and secular tailwinds driving 6%-8% annual market growth. All of this is backstopped by Carl Icahn's three board seats and 10% stake, Affiliated Computer Services (ACS)/Conduent founder and second-largest shareholder Darwin Deason's 6% stake, and a potential acquisition as the BPO industry consolidates. There are many ways to be right with Conduent, and the discounted valuation and countercyclical business model provides a healthy margin of safety to unforeseen macro-driven risk off market pressure.
Why Does the Opportunity Exist?
After spinning off from Xerox on Dec. 13, Conduent has lower-than-peer margins, and as a result trades at a discounted multiple. ACS was never integrated under Xerox ownership, and the business was mismanaged such that poor contract execution and duplicative operating structures caused earnings before interest, taxes, depreciation and amortization (Ebitda) margins to decelerate from 16% in 2009 to 10% in 2016.
An outsider chief executive with a history of outperformance was brought in with the encouragement and blessing of Icahn and ACS founder Deason. CEO Ashok Vemuri is running the business like an owner in taking actions to shrink sales by cutting unprofitable business (the "Other" segment alone lost $84 million on $301 million in 2016 sales), to grow profits, and later, the top line. Investors are myopically focused on the current reality of declining sales and inferior margins, instead of seeing the inherent optionality that comes with a proven CEO undertaking a proven playbook to restore a strong but mismanaged business that is underearning and undervalued.
BPO businesses are essentially outsourced back offices. BPO business services offer transaction-intensive processing, analytics, and automation to government and commercial customers in the U.S. and internationally.
Conduent is the former BPO business of Xerox. Xerox paid $8.3 billion for this business (then known as ACS) in 2010, and, after five years of mismanagement, Icahn took a 10% stake in Xerox, and pushed for a spin-off that commenced in December.
Conduent offers expertise and scale in labor-intensive processes that clients do not have the scale or capability to profitably operate themselves. Contracts are three to five years in duration, and Conduent utilizes learning-curve advantages to increase efficiency every year to maintain or increase unit margins.
Segment Breakdown
Commercial Industries (59% of sales, 3.1% segment margin)
The Commercial Industries segment provides business-to-business (B2B) and business-to-consumer (B2C) services such as customer care (call centers), human resource management, marketing, training and finance and accounting services. A $320 billion market, growing 6%, annually.
Public Sector (35% of sales, 11.1% segment margin)
The Public Sector segment provides services processing for transportation, public assistance, program administration, transaction, and payments to foreign and U.S. federal, state, and local governments. Additionally, this segment offers prepaid cards, health-savings accounts, child-support payments, customer-care services, legal-business services, and applied automation and analytics solutions. $40 billion market that is growing at 5%, annually.
Other (5% of 2016 sales, $84 million in losses on $301 million in sales)
The Other segment consists of student-loan servicing and health-enterprise services. This segment lost $84 million in 2016, and is in runoff mode. Conduent anticipates getting to breakeven by 2018.
A Spinoff with a Motivated and Proven Management Team, Implementing a Proven Process
Proven Management Team
CEO Vemuri was hired to run Conduent in July 2016. Vemuri was the CEO of iGate Corporation from September 2013 to October 2015. He was brought on after co-founder Phaneesh Murty was abruptly fired. Vemuri took the helm of iGate when the company was saddled with debt from the Patni Computer Systems acquisition (iGate paid $1.2...
More