Goldman Sachs Group Inc., the worst performer in the Dow Jones Industrial Average this year, posted a 60 percent drop in profit as the firm reported its lowest revenue for a first quarter since Chief Executive Officer Lloyd Blankfein took the top post in 2006.
Net income declined to $1.14 billion, or $2.68 a share, from $2.84 billion, or $5.94, a year earlier, the New York-based company said Tuesday in a statement. That beat the $2.48 per-share estimate of 23 analysts surveyed by Bloomberg, as the firm cut costs deeper than expected. Goldman Sachs's revenue fell 40 percent to $6.34 billion, missing the average estimate of $6.69 billion.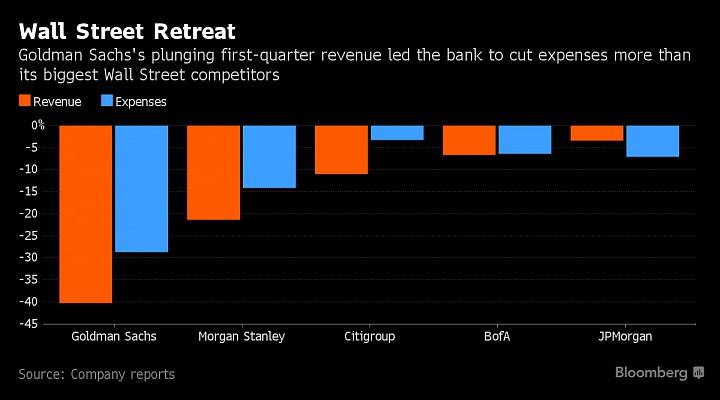 Blankfein is trying to ride out a years-long bond-trading slump that's been compounded by market swings and stiffer regulations -- challenges that forced many competitors to scale back. He's embarked on the biggest cost-cutting push in years, following his largest competitors who have turned to expenses as the only lever to pull in an environment of deteriorating revenue.
It was "a quarter to forget," Glenn Schorr, an analyst at Evercore ISI...
More