The company lost almost 30% over the last 6 months. <!== INSTRUMENT %% %1440% ==!>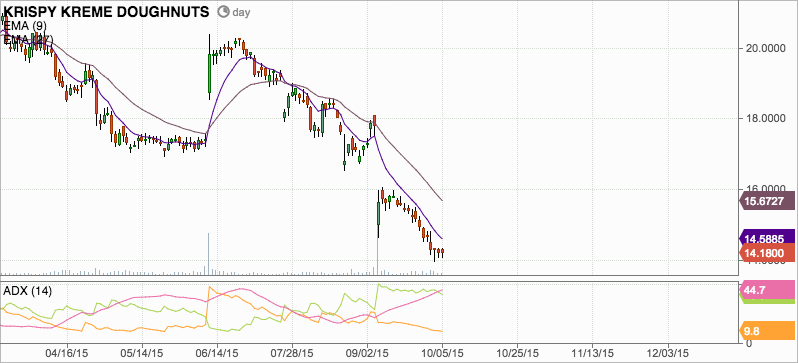 We need to check the operating metrics of the company and its strategy and understand if there is any potential. Krispy Kreme announced the following plans for this year:
20-35 store openings in the United States;
Franchise network will expand by 95-110 stores;
The company will keep the growth in comparable store sales
As we can see from the latest report (Q2 2016 fiscal year), the company achieved the following figures:
Company owned: 3 net store openings
Domestic franchise: 8 net store openings
International franchise: 49 net store openings
The most important is the fact that the company's same store (Company owned) sales increased from 1.3% as of August 2014 to 2.3% as of August 2015. The domestic franchise same store sales grew up as well: 7.3% as of August 2015 vs 3.5% as if August 2014. However the company is still suffering from the currency fluctuations, because the international same-store sales in USD decreased significantly to (12.6%). Moreover, each business segment had increased its operating income.
I suppose that the company will most likely reach the minimum plan in terms of store openings for this year. I recommend to take a look at Krispy Kreme in long-term perspectives.