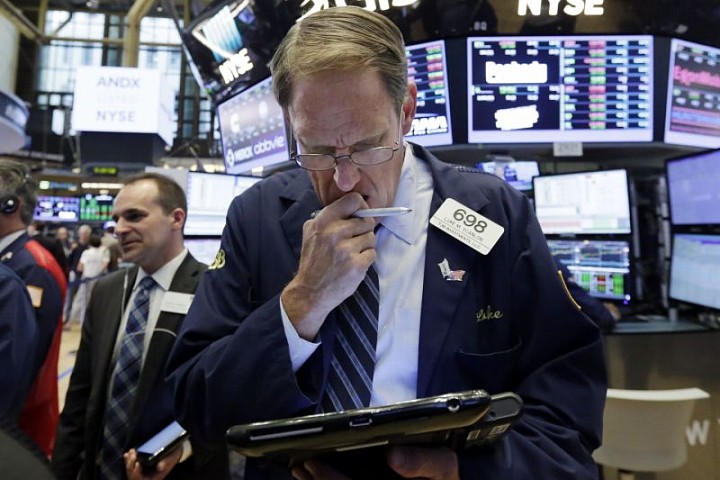 NEW YORK (AP) -- U.S. stocks are rising Tuesday, sending the Dow Jones industrial average closer to 22,000 points. Banks are posting some of the biggest gains. Royal Caribbean Cruises is jumping after it raised its annual profit forecast following a strong quarter, and utility company Scana is climbing after it said it plans to end construction of two nuclear reactors in South Carolina. Under Armour is tumbling after the athletic apparel company lowered its revenue projections and said it will cut jobs and expenses. Oil prices turned lower.
KEEPING SCORE: The Standard & Poor's 500 index rose 6 points, or 0.2 percent, to 2,376 as of 12:20 p.m. Eastern time. The Dow Jones industrial average climbed 95 points, or 0.4 percent, to 21,986. The Nasdaq composite added 10 points, or 0.2 percent, to 6,358. The Russell 2000 index of smaller-company stocks remained at 1,424.
GETTING PAID: Goldman Sachs picked up $2.62, or 1.2 percent, to $227.95 and Bank of America added 29 cents, or 1.2 percent, to $24.41. Investment firm BlackRock gained $3.36 to $429.89.
Payments processor Visa rose $1.20, or 1.2 percent, to $100.76. Mastercard, which processes debit and credit card payments, rose $1.42, or 1.1 percent, to $129.22. The gains for those companies helped technology stocks move higher. So did solid quarterly results from Xerox, which jumped $1.07, or 3.5 percent, to $31.74.
SMOOTH SEAS: Cruise line operator Royal...
More