In a move that should give car dealers nightmares, Amazon.com (NASDAQ:AMZN) will soon begin selling new cars online at a discount.
There are a few big catches, of course. For now, the only cars offered are three Fiat models, and they'll only be offered to Amazon customers in Italy. But it's another step toward what many believe to be Amazon's goal: to shake up the way we buy new cars.
How this will work: buying a Fiat on Amazon at a discount
Here's what we know: Fiat Chrysler Automobiles (NYSE:FCAU) said this past week that it has teamed up with Amazon to offer three Fiat models via the giant shopping site. Buyers in Italy will be able to log on to Amazon and purchase a Fiat Panda, 500, or 500L at a discounted price.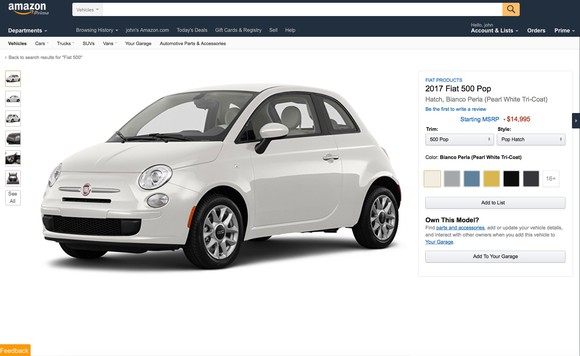 How much of a discount? It's not clear. But FCA's sales chief for Italy, Gianluca Italia, told reporters on Friday that existing promotions will be improved by up to 33% for online customers, according to a Reuters report.
Traditional dealers will still be involved in the process. After buyers select the vehicle they want on Amazon's site and commit to the purchase, they'll be contacted by Amazon and asked to choose a dealer with which to finalize their purchase and pick up the car. Italia said the vehicles should be ready for pickup within two weeks.
Amazon may be gearing up to disrupt car-buying
Amazon raised eyebrows throughout the auto industry when it launched its Amazon Vehicles portal this past summer. For now, in the U.S. at least, Amazon Vehicles is just an informational...
More