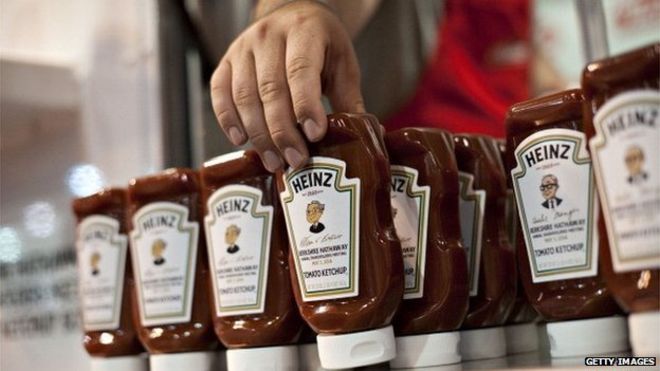 The deal was engineered by Heinz's owners, the Brazilian investment firm 3G Capital, and billionaire investor Warren Buffett's Berkshire Hathaway.
Current Heinz shareholders will own 51% of the combined company with Kraft (NASDAQ:KRFT) shareholders owning a 49% stake.
3G and Berkshire Hathaway bought Heinz two years ago for $23bn and took the company private in 2013.
Warren Buffett, Berkshire Hathaway chief executive, said: 
"I am delighted to play a part in bringing these two winning companies and their iconic brands together.
"This is my kind of transaction, uniting two world-class organisations and delivering shareholder value. I'm excited by the opportunities for what this new combined organisation will achieve."
The combined firm, Kraft Heinz Company, expects to make $1.5bn (£1bn) cost savings per year by the end of 2017. Its brands will include Kraft, Heinz, and hotdog maker Oscar Mayer, with combined sales worth some $29bn.
Alex Behring, chairman of Heinz and the managing partner at 3G Capital, said: 
"By bringing together these two iconic companies through this transaction, we are creating a strong platform for both US and international growth."
John Cahill, Kraft chairman and chief executive said:
"We look forward to uniting with Heinz in what will be an exciting new chapter ahead."
The men behind the Kraft deal
Jorge Paulo Lemann
Ranked as Brazil's richest man by Forbes
Competed in the singles tennis Wimbledon Championships in 1962
Co-founded global investment firm 3G Capital in 2004
Owns controlling stake in Anheuser-Busch InBev and Burger King
Warren Buffett
Ranked as one of the world's richest men by Forbes
Chairman and chief executive of holding company Berkshire Hathaway
Owns companies ranging from car insurance to jewellery
Joined forces with 3G to buy Heinz in 2013