Less than one week ago, none other than Dennis Gartman gave the all clear signal to go long the 10Y treasury (on double seasonally-adjusted margin) when he proudly declared he went short. We appropriately commemorated this development:
From August 6:
It is time to be shot of the long end of the US bond market and we wish this morning to sell the September T-note future at or near to 126 3/4. We can imagine the front month future trading to 118-119 over the course of the next several months while at the same time we shall be willing to risk only  1 1/2 points to the upside. The top has been formed over the course of the last several months and we are willing to be short even ahead of tomorrow's Employment Situation Report."
Fast forward to today, not even a week later, when we find that Gartman is about to be stopped out. To wit:
We were convinced that a top has been formed over the course of the last several months and we were willing to be short but the Chinese devaluation has wrought havoc upon us, catching us and everyone else out. As we write, the September t-note future is trading 128 ¼ and that is ¼ point above our "close only" stop.
Uhm, "everyone else"? In any case, this is where the 10Y trading now?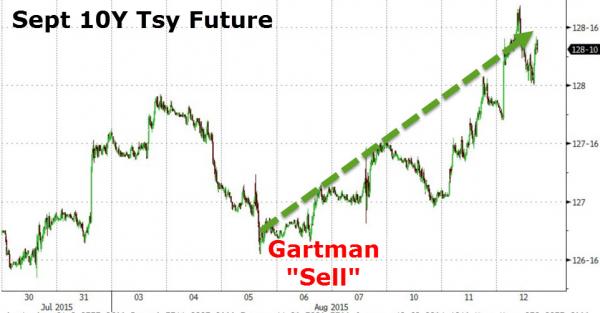 It goes without saying that once Gartman blows up on a trade (in monopoly money terms), either long or short as happens all the time, it is everyone's duty who profited from being on the other side, to close it out.