As Andy Cecere settles into the corner office at U.S. Bancorp (NYSE: USB), it's become clear that he intends keep the bank on the same prudent and profitable course as his predecessor.
You can get a sense for this by listening to Cecere on the bank's quarterly earnings calls, where he hews closely to the fundamentals of banking that have contributed to U.S. Bancorp's success over the past 17 years. He did this most recently on U.S. Bancorp's second-quarter conference call, as you can see from five of the points he made on it.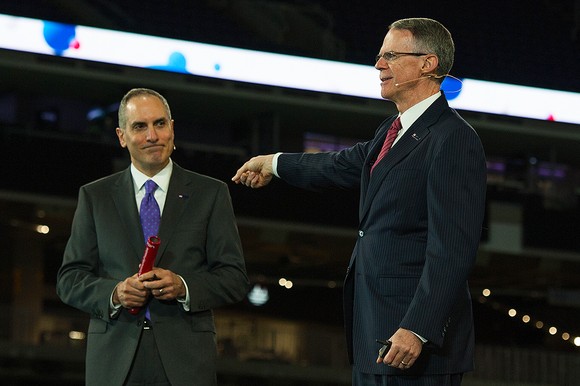 U.S. Bancorp chairman Richard Davis (right) introducing new CEO Andy Cecere (left). Image source: U.S. Bancorp.
1. Positive operating leverage
One of U.S. Bancorp's goals over the years has been to deliver positive operating leverage -- to grow revenue faster than expenses.
But this isn't easy in the current environment. A combination of low interest rates and higher compliance costs, coupled with the need to continue investing in technology, have stood in the way of this goal at most banks over the past few years, even U.S. Bancorp.
This isn't good, but it's important to keep things in perspective. U.S. Bancorp could have easily continued to drive positive operating leverage had it invested less in its business. But while that would have served to salve a short-term wound, it would have threatened to leave a long-term scar by giving the bank's competitors an opening to overtake it on the technological front, which is where the battle over the future of banking is being fought.
Either way, as Cecere noted on the call, U.S. Bancorp expects to begin generating positive operating again in the third and fourth quarters of this year.
2. Loan growth
Analysts and commentators grew concerned earlier this year with what appeared to be a slowing trend in loan growth, as uncertainty around policymakers' ability to deliver on regulatory and tax reforms seemed to stall in Washington, D.C. and thereby threaten to suppress business and consumer investment.
Loan growth isn't just important for banks, which look to lending for a substantial share of revenue. It also matters for the health of the economy more broadly, as credit fuels the country's economic engine.
Fortunately, Cecere says that this trend may have turned a corner:
Our balance sheet is strong and growing, sequential loan growth came in at the high end of our guidance range at 0.9%. As expected, [commercial and industrial] loan growth picked up after a sluggish start to the year and gained momentum toward the end of the second quarter. Based on current trends we expect that by the third quarter total loan growth will be back to the 1% to 1.5% range we think that is more normalized.
3. Credit quality
Another concern of late has been souring credit quality in certain corners of the debt markets.
A recent report from Moody's showed that some of the nation's biggest banks have seen an uptick in credit card charge-offs. Other reports indicate that default rates among subprime auto loans are on the rise.
Fortunately, U.S. Bancorp has always been one of the industry's best managers of credit risk, which continues to be reflected in its latest results. According to Cecere:
Credit quality remains excellent and we feel good about the risk profile of the loan portfolio. The net charge-off ratio was stable in the second quarter and our non-performing asset ratio improved on both, the linked quarter and year-over-year basis.
4. Capital management
U.S. Bancorp has long prided itself on returning the lions' share of its earnings to stockholders every year by way of dividends and buybucks. And in June, it got the go-ahead from the Federal Reserve, as part of the annual stress testing process, to boost its payouts even more.
As Cecere noted on the call, U.S. Bancorp increased its dividend by 7.1% in the immediate wake of the stress tests and announced a new $2.6 billion share repurchase program that it will execute over the next 12 months.
5. Macro perspective
Finally, despite the uncertainty pulsing through the markets right now, evidenced by eerily low anticipated volatility in the stock market, Cecere is upbeat about the state of the economy:
From a macro perspective, corporate balance sheets are strong, consumer confidence is increasing and the evolving economic and regulatory backdrop has to promise to be conducive to growth. I just spent time in Washington last week and was very encouraged by the open and productive dialogue that has taken place; nonetheless, progress has been slower than any had hoped.
All things considered, U.S. Bancorp turned in a typically solid performance for the three months ended June 30. Its stock isn't cheap, but for investors with a long time horizon, U.S. Bancorp makes for a compelling investment.
10 stocks we like better than US Bancorp
When investing geniuses David and Tom Gardner have a stock tip, it can pay to listen. After all, the newsletter they have run for over a decade, Motley Fool Stock Advisor, has tripled the market.*
David and Tom just revealed what they believe are the 10 best stocks for investors to buy right now... and US Bancorp wasn't one of them! That's right -- they think these 10 stocks are even better buys.
Click here to learn about these picks!
*Stock Advisor returns as of August 1, 2017
John Maxfield owns shares of US Bancorp. The Motley Fool has no position in any of the stocks mentioned. The Motley Fool has a disclosure policy.