Why do due diligence in the small-cap biotech space? Thorough research allows biotech investors to identify value investments that will outperform in market turmoil.
Led by Recro Pharma and Tobira Therapeutics, my Top Value Biotech Picks of 2015 are now up 70% and have outperformed the biotech indices every quarter of 2015.
Led by Loxo Oncology and DARA BioSciences, my Top Value Biotech Picks Starting Q2 2015 have held up well and outperformed the indices by 9 percentage points.
Led by MEI Pharma and Celladon, my Top Value Biotech Picks Starting Q3 2015 have also outperformed the indices, with only one name underperforming the XBI.
My Top Value Biotechs starting Q4 2015 are Roka Bioscience, Nexvet Biopharma, Biota Pharmaceuticals, OXiGENE, Celladon, Cidara Therapeutics, Tenax Therapeutics, and Mast Therapeutics.
Wow. Who knew what damage a Hillary Clinton tweet (see below)…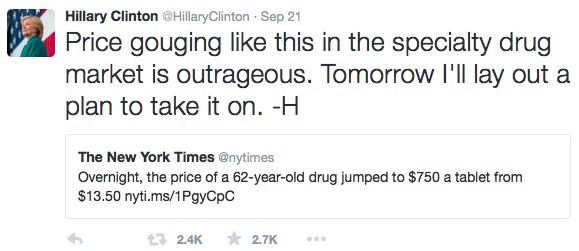 …triggered by Martin Shkreli's Turing Pharma raising the price of the old generic drug Daraprim for AIDS patients could cause to the portfolios of biotech investors. While Shkreli did promise to reduce the price of the drug (his firm had raised its price 5,000%) due to the backlash, the damage was done for the biotech indices given the firestorm this string of events caused in relationship to drug pricing. With the SPDR S&P Biotech ETF (NYSEARCA:XBI) down 15% for the week and the iShares NASDAQ Biotechnology Index ETF (NASDAQ:IBB) declining 13% during this period, the third quarter has been bloody for biotech investors with the XBI down almost 20% and the IBB down 16%, likely ending a streak of 10 straight quarters of gains.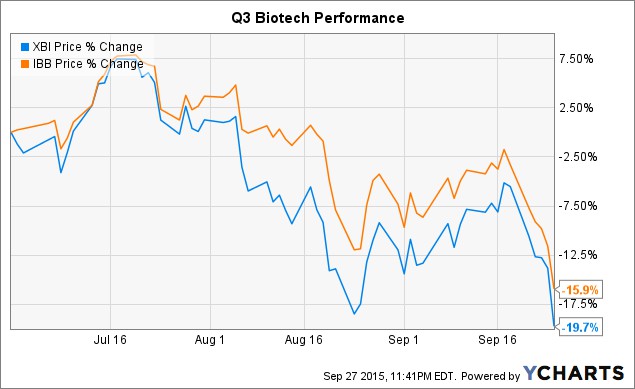 XBI data by YCharts
How do I look to lessen the blow in rough quarters for biotech investors like Q3? As a biotech value investor and stock picker, I look to identify undervalued names with significant cash reserves, good management teams, remaining pipeline assets, and compelling catalysts that have been unfairly been beaten down by a market not fully understanding the proper valuation of these firms. This strategy has proved effective for me with my three sets of Top Value Biotech Picks each outperforming both of the major biotech indices.
A quick review of my previous sets of Top Value Biotech Picks:
Led by the shrewd acquisition of the IV/IM meloxicam cGMP manufacturing facility and business unit from Alkermes (NASDAQ:ALKS) by Gerri Henwood's Recro Pharma (NASDAQ:REPH) and the well-executed reverse merger by Regado Biosciences into Tobira Therapeutics (NASDAQ:TBRA), the Top Value Biotech Picks for 2015 have outperformed both XBI and IBB every single quarter. This quarter was a bit complex for the portfolio with Targacept completing a rather complex reverse merger into Catalyst Biosciences (NASDAQ:CBIO), with the cash/note portion of the payout being redistributed to all the names of the portfolio in accordance to the Silicon Investor 2015 Biotech Charity Contest. Catalyst Biosciences shows a misleading large negative return below since the beginning of the year as I have yet to see a Form 8937 in regards how to properly adjust the cost basis in regards to the large cash and convertible note dividend. The portfolio now looks as follows with one quarter remaining:
Led by a 70% gain in Loxo Oncology (NASDAQ:LOXO) triggered by market understanding of undervaluation of TRK inhibitors and an impressive showing by another TRK inhibitor play, Ignyta (OTC:RXDX), at the American Society of Clinical Oncology annual meeting in the late Spring, the Top Value Biotech Picks held up well in Q3 and have outperformed each of the major biotech indices by approximately 9 percentage points since inception. DARA BioSciences (NASDAQ:DARA) has also acted well as the company looks to close a reverse merger with Midatech Pharma. The portfolio now looks as follows with two quarters remaining:
While none of my Top Value Biotech Picks starting Q3 have put in a stellar performance in their first quarter since inception, they have all performed admirably in the biotech bloodshed with all but one of the names outperforming XBI in Q3. The portfolio as a whole has outperformed both XBI and IBB this quarter. I expect the outperformance of this portfolio versus the biotech indices to improve over the next few quarters with a plethora of compelling catalysts on deck for these undervalued names. The portfolio now looks as follows with almost one quarter in the books:
(click to enlarge)

Introducing the Top Value Biotech Picks Starting Q4 2015
As a reminder, these portfolios are managed by the rules of the Silicon Investor Biotech Charity Contest, having a holding period of 12 months. The 2016 Biotech Charity Contest will be starting in a few months, and I highly encourage all of my readers to check it out, as it is a great way for biotech investors to help charity and learn about some great biotech picks from a smart group of investors. In this portfolio, you will see a number of holdovers from the previous group as these names currently present exceptional risk/reward and have a plethora of near-term catalysts. I will provide thorough updates on each of these names to highlight why the 12-month outlook of these names is exciting. In addition to the holdovers, I will be presenting a couple of new, exciting names that I expect to have significantly higher valuations in the next few quarters. Without further delay, the following are my Top Value Picks Starting Q4 2015:
(click to enlarge)
For official tracking purchases, I will be adjusting the share amounts and cost basis figures based on the end of Q3 closing price. Of the portfolio's 8 holdings, the top 4 are what I call core holdings. These top 4 fit my investment philosophy very well and present the best risk/reward profiles, thus have been given higher weightings. I will go into pretty significant detail on the outlook for each of these investments. The remaining four holdings are decent fits, but do not necessarily present as compelling of a risk/reward and investment thesis over the next twelve months compared to the top 4. For the sake of controlling the length of this piece, I will be briefer and just provide a paragraph overview of the thesis behind why I am excited to have these other names in the portfolio.
Roka Bioscience (NASDAQ:ROKA) - 20% Allocation: As a reminder, Roka Bioscience is a molecular diagnostics company focused on developing and commercializing advanced testing solutions for the food safety market. I initially highlighted Roka as a buy with my Top Biotech Value Picks Starting Q3, noting the experienced management team, significant cash reserves, dedicated institutional investors, and my belief of pent-up demand once the company received clearance for its improved listeria assay. Given that the company has a lengthy sales cycle of 6 months for this product, I had not expected significant gains in Q3, but viewed the name as a great play for the longer term. After a poor showing on Friday on about $200,000 of volume, the stock has performed slightly ahead of the XBI in Q3.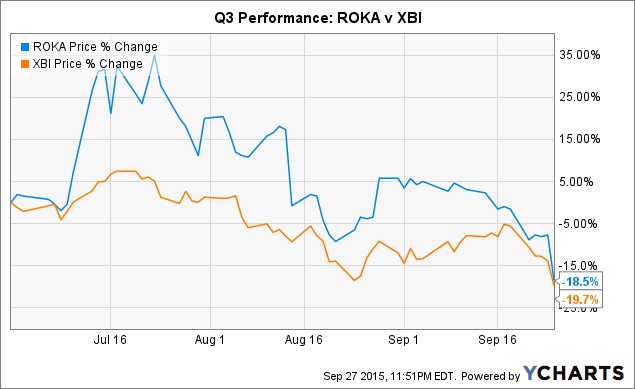 Last month, I wrote a formal initiation piece providing a more thorough discussion of Roka's outlook, describing the name as My Best Long-Term Small Cap Biotech Turnaround Play. This thesis remains intact, and I continue to hold this opinion, thus Roka has been provided the maximum 20% weighting in this portfolio. In addition to my thorough commentary from my piece last month, I would like to add commentary on a few additional details.
Main Takeaway From Last Month's Quarterly Update: My main takeaway from last month's quarterly update was that the turnaround was developing slower than I expected. The company had to put significant time into ensuring it got AOAC clearance, with the company receiving the clearance in the second half of the time range when I expected the clearance to come through. I had initially hoped that a turnaround would be something that would be evident to investors in H2 2015. Due to getting through the clearance a bit slowly, the substantial sales cycle, and my lack of full comprehension of how long all this takes, this belief of mine in regards to a turnaround evident by H2 2015 was too hopeful, and I believe it is more accurate to project signs of a sales turnaround triggering market acknowledgement of a Roka turnaround as a Q4 2015/Q1 2016 event.
Increased Government Regulation For Food Safety: When discussing Roka, I have yet to highlight how increased government regulations is an important macro trend that will fuel growth for the food safety industry and increase the market for Roka's products. The passage of the Food Safety and Modernization Act in 2011 was an important milestone for the food safety industry, and its continued implementation will trigger impressive growth for the food safety industry. President Obama requested over $100 million for the 2016 budget to continue the implementation of this important act to ensure reductions of events like the Blue Bell listeria outbreak. As Mike Taylor, the FDA's Deputy Commissioner for Food and Veterinary Medicine, noted in a late May piece, implementation is expected to continue to push companies to develop clear-cut written food safety plans to establish a clear process, which I believe is something that will trigger companies in increased numbers to consider Roka's suite of products. The following quote from a published industry expert illustrates my thoughts and her description of what product will be needed highlights how Roka is in an excellent position to offer what the market needs:
"I think we will see an increase in testing related to the Food Safety Modernization Act, and there's a trend toward environmental testing as opposed to finished product testing," says Meredith Sutzko, Product...
More