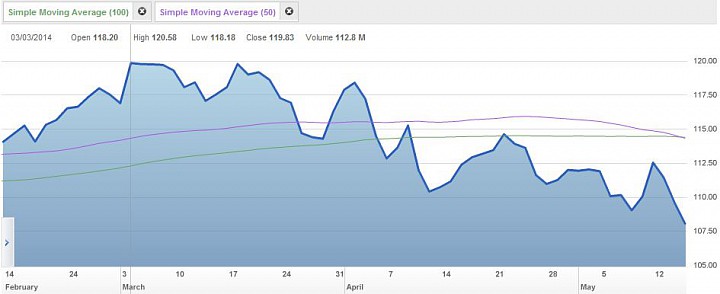 The Russell 2000 is now in correction territory, down more than 10% from its record high on March 3rd.  The small-cap index hit correction territory last Friday intraday but quickly bounced back.  Since the closing price is what makes a correction official, it needs to close at 1087.78 or lower.
Traders and Analysts have predicted the obvious and said a 10% pullback on the markets is overdue.  The Russell 2000 is the first broad market index to hit correction territory which comes the same week both the Dow Jones and S&P 500 hit record highs.    
The Dow Jones and S&P 500 haven't gone through a correction since late 2011. However the Nasdaq's last 10% pullback took place in November 2012, even though the index fell 9.2% in early March through mid-April this year before getting back some of those losses.
This will be another test to see if the Russell 2000 is a decent leading indicator of the broader markets or just a newfound dislike of the market's riskiest assets.  It may be that investors are just more interested in other assets in the market with greater perceived stability, such as shares of large companies and bonds.
Time will tell.