It is no wonder that many value investors rivet their attention to Macy's (NYSE:M), one of the largest US retailers. More than 13% plunge that Macy's shares suffered on Wednesday is quite rare for large cap companies. The free fall was sparked by investors disappointed with bleak 3Q results that revealed the inability of Macy's to maintain sales even flat. Nevertheless, Macy's still remains profitable, with potential yields surging to double-digit numbers.
The Company's press release, dedicated to 3Q 2015 results, unveiled two disappointing issues. First of all, EPS for the full-year 2015 now are expected in the range of $4.20 to $4.30, excluding impairment charges associated primarily with previously announced store closings. As compared to previous guidance in the range of $4.70 to $4.80, the update seems to be evidence of negative outlook. Sales are expected to decline by 2.7% to 3.1%, compared to its previous estimate of a 1% drop. There's nothing surprising that such a bearish forecast coupled with tepid 3Q sales (3.9% decline, y-o-y) has ultimately resulted in Macy's stock collapse.
Secondly, the 'Real Estate Considerations' section of press release states that the Company has decided not to pursue a spin-off of its real estate assets into REIT, since it 'does not offer sufficient upside potential for value creation'. The day before, McDonald's Corp. announced it would also reject spin-off plans related to huge US real estate holdings because it would be too risky for their business model.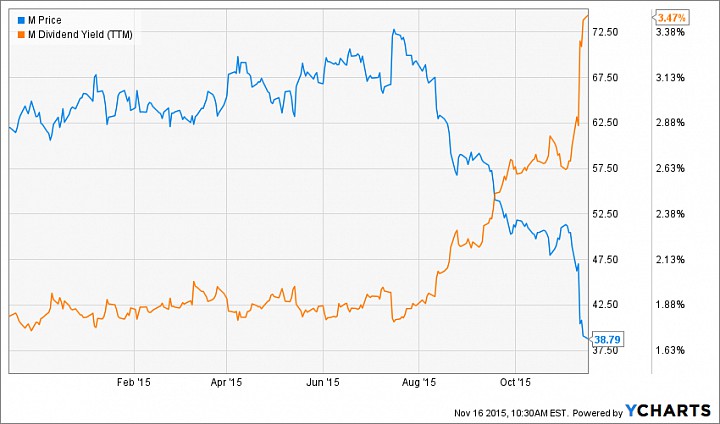 The prime reason we take notice of the Macy's stock is solid capital returns that the Company offers to shareholders. First of all, Macy's dividends per share for the three months ended in July 2015 were $0.36. Its dividends per share for the TTM ended in July 2015 were $1.30. Assuming that dividends remain stable in the upcoming year, we can expect 3.47% dividend yield. Secondly and most importantly, Macy's is repurchasing tons of its shares, with $900 million of stock being bought back only in 3rd quarter. For the full year, the Company repurchased 30.6 million of shares for $1.84 billion. Taking into account, that the average price was over $60, it seems to be a lucrative opportunity for value investors to collect hefty return.
Besides dividends return, the share price could be supported by strategic initiatives undertaken by Macy's, such as accelerated investments in digital and mobile capabilities of Macy's, Bloomingdale's and Bluemercury's retail chains. Macy's has already been ranked as the 7th largest online retailer in the US, and Internet sales continue to increase with double-digit growth rates. The Company also revealed its plans to focus on top stores in the best locations and exploit its selling space more efficiently. SG&A reduction plans should also be considered when evaluating Macy's long term prospective.
To sum up, despite the fact that Macy's performed really poorly this year, it's valuation (P/E 10x) seems to be extremely compressed as opposed to broad market (S&P trades closer to P/E 19x). This figures does not reflect both hefty dividend yields and stock appreciation prospective. Therefore, we set BUY recommendation on Macy's common stock.