Welcome to Episode #105 of the Zacks Market Edge Podcast.
Every week, host and Zacks stock strategist, Tracey Ryniec, will be joined by guests to discuss the hottest investing topics in stocks, bonds and ETFs and how it impacts your life.
In this episode, Tracey is joined by Zacks Director of Research, Sheraz Mian, to discuss the earnings outlook for the small caps stocks, the S&P 600 index.
The small cap stocks have been ignored by most investors as they pile into the large cap Dow Industrials and FANG names like Amazon and Netflix.
As a result, the small cap stocks have underperformed in 2017. The S&P 600, the small cap index, is up about 9% on the year, which, in any other year would be an excellent showing through the month of November. But this year, the S&P 500 is up 14% while the NASDAQ is up nearly 24%.
With returns like those, investors have been shunning the small caps.
Could this present a buying opportunity?
Small Cap Earnings Finally Turning Around
With about a third of the small cap S&P 600 companies already having reported earnings, the earnings picture looks healthier than it has in many quarters.
Sheraz points out, that it has been negative in prior quarters but that the future is looking really bright with earnings expected to rise dramatically.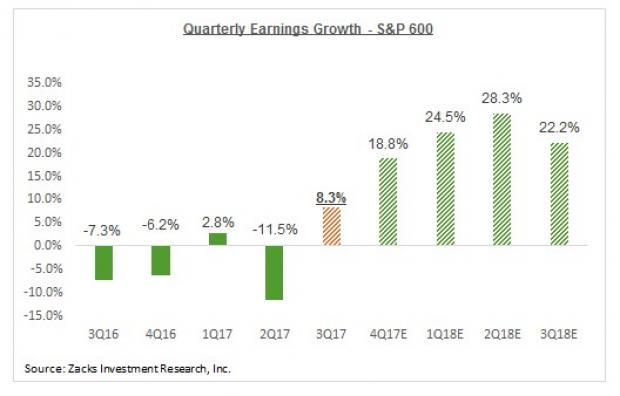 Analysts are really bullish on 2018, and that's even before there are any corporate tax cuts as the analysts don't take proposed legislation into account when figuring out their numbers.
Corporate tax cuts could light a fire under the mostly domestic small cap companies that have been struggling with earnings growth.
If you're an investor looking for ways to play the small caps going forward, Tracey and Sheraz discuss possible stock and ETFs options.
5 Ways to Play the Small Cap Comeback
1. SPDR S&P 600 Small Cap ETF (SLY) captures the entire index. This is a good way to get diversity in a portfolio.
2. First Trust NASDAQ Community Bank ETF (QABA) is a good choice for those who want to play the financials, especially the small banks. It's nearly impossible to create your own diverse portfolio of banks so this is a good way to own a basket of them.
3. Ultra Clean Holdings (UCTT) has already reported earnings and missed on the quarter but the earnings estimates are still being revised higher. It has a price-to-sales ratio of just 0.9.
4. PetMed Express (PETS) is one of the largest online pet pharmacy companies in the United States. Earnings are expected to grow 41% this year. This small cap company also pays a dividend, which is rare for a small cap, yielding 2.2%.
5. MKS Instruments (MKSI) beat on the estimate and analysts have been revising their full year outlooks much higher. Earnings are now expected to grow 91% this year. The stock still has attractive valuations, with a forward P/E of 18.
It's not easy to invest in individual small cap stocks as they are so lightly covered and, many times, simply unknown.
Tracey used a screen which included the Zacks Ranks of #1 (Strong Buy) or #2 (Buy) to find these small caps with rising earnings estimates. As always, be sure to research the fundamentals of any company before you dive in.
But with earnings seemingly on the rise, 2018 could be a bright year for the small caps.
What else should you know about buying the small cap stocks?
Find out on this week's podcast.
Looking for Stocks with Skyrocketing Upside?

Zacks has just released a Special Report on the booming investment opportunities of legal marijuana.

Ignited by new referendums and legislation, this industry is expected to blast from an already robust $6.7 billion to $20.2 billion in 2021. Early investors stand to make a killing, but you have to be ready to act and know just where to look.

See the pot trades we're targeting>>
Want the latest recommendations from Zacks Investment Research? Today, you can download 7 Best Stocks for the Next 30 Days.
Click to get this free report
Ultra Clean Holdings, Inc. (UCTT): Free Stock Analysis Report
MKS Instruments, Inc. (MKSI): Free Stock Analysis Report
PetMed Express, Inc. (PETS): Free Stock Analysis Report
SALOMON LEASING (SLY): ETF Research Reports
FT-NDQ ABA CBIF (QABA): ETF Research Reports
To read this article on Zacks.com click here.
Zacks Investment Research