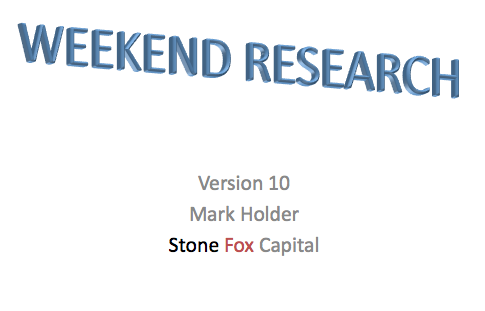 Quarterly results came in fast and furious last week with a couple of key themes playing out as expected. This weekly version of Weekend Research will focus on Internet search and mobile advertising versus Big Oil. 
The interesting part is that Internet search stocks in the form of Alphabet (GOOGL) and Baidu (BIDU) were under pressure this year while Big Oil in the form of Exxon Mobil (XOM) and Chevron (CVX) rallied to recent highs. 
As discussed in posts this week, the play is GOOGL on a break above $800. The stock closed at the lows on Friday down at $791. The inability to breakout is a negative sign leaving Alphabet trading in no-mans land with a gap back at $766. Either buy a breakout or wait for a gap close. A very possible headwind is the market size not only at over $500 billion, but also expectations that revenues will approach $100 billion next year. If the stock doesn't breakout, the market sees trouble ahead not suggested by the quarterly numbers. 
Baidu is more of a long-term case as the Chinese search leader runs into regulatory problems with customers. The end result is higher returns for approved customers that will eventually shift more money to online search. The higher quality search results will in turn encourage more Chinese people to use Internet search. Baidu is the clear value play in the sector and will eventually rally as underlying business trends remain solid. 
As far as the oil majors, the market got this one wrong big time. Exxon Mobil reported the lowest quarterly profit since 1999 and Chevron had another quarterly loss for the longest streak in 27 years. Sure the results included some one-time impairments charges and such, but the key takeaway remains that the push to lower costs instead of production creates a rush to the bottom. The lower costs only encourages drilling at lower prices evident by the recent rise in drilling rigs as oil hit $50/bbl. 
Look for opportunities in Alphabet and Baidu, while clearly avoiding Big Oil. 
Disclosure: Long BIDU