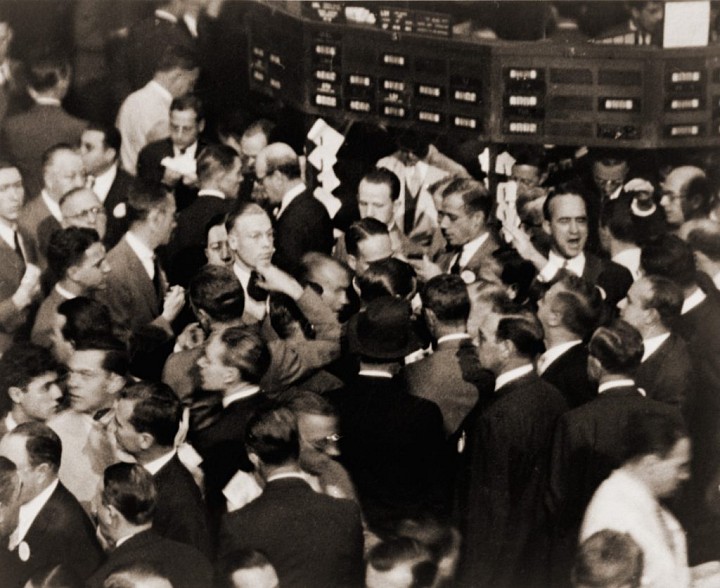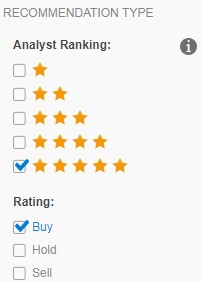 Which stocks are the Street's very best analysts recommending right now? We turned to the popular Daily Analyst Ratings tool to pinpoint stock recommendations from the Top 25 Analysts on TipRanks. These analysts are the best out of over 4,700 tracked analysts. They regularly crush the market with their accurate stock ratings and analysis.
To find these 5 top stocks, we set the filters to only show the latest ratings from five-star analysts. Scanning the results quickly reveals the most compelling investing opportunities. Note that in the screenshots below, the percentage in the circle is the analyst's success rate and the second is their average return on a 1-year basis. If you click on the screenshot you can find further in-depth coverage of the stock including the overall Street consensus.
Now let's take a closer look:
Bioverativ Inc (NASDAQ:BIVV)

Five-star analyst, Cowen & Co's Eric Schmidt, reiterated his buy rating on Bioverativ Inc two days ago. BIVV is a biopharma that specializes in rare blood diseases such as hemophilia. Schmidt's buy rating comes with a bullish $80 price target- the stock's highest price target so far. Given that BIVV is currently trading at just $56, this suggests big upside potential of 43%.
The company has just reported very strong results for the third quarter, driven by strong Eloctate sales (+41% Y/Y). Following the report, Schmidt explains his reasoning on the stock. "We view BIVV's hemophilia franchise as fairly durable and are excited about BIVV009's $1.5B+ potential in CAD [coronary artery disease]." He expects the company to beat existing guidance of 23-25% Y/Y revenue growth "by a meaningful margin".
MuleSoft Inc (NYSE:MULE)
Two days ago, one of the best analysts on TipRanks assigned a buy rating to MuleSoft Inc. Canaccord Genuity's Richard Davis gave the stock a bullish $30 price target (the stock is currently trading at $24). MuleSoft, a software company that provides integration software for connecting applications, data and devices, only went public back in February. The stock rose over 45% on the first day of trading, making investors nervous.
Davis himself only recently upgraded MULE to buy. On October 23 he turned bullish on MULE, ramping up his price target from $24 to $29. MULE is "strategically positioned for long-term growth" says Davis, adding: "we believe the odds favor that the firm will post the financial equivalent of catnip for human and algorithm traders – a series of beats and raises."
Following conversations with VCs, private companies and IT buyers, Davis concludes that the "likely competitive moat that MuleSoft can and will create is better than investors realize." He sums up the position thus: "is MuleSoft a ridiculously cheap stock? Certainly not. Does the company have what we believe is best in class software in a space that is very likely to see significant long-term demand? Yes."
Alphabet Inc (NASDAQ:GOOGL)
Shares in GOOGL have exploded in the last couple of days from just $991 to $1033. Prices are rising following the release of better-than-expected results for the third quarter which show a record number of ad clicks. Revenue came in at $27.77 billion, easily beating the consensus estimate of $27.2 billion. Meanwhile EPS of $9.57 eclipsed the estimated EPS of $8.33.
Robert W. Baird's Colin Sebastian is one of a slew of top analysts publishing buy ratings on GOOGL in the last few days. His buy rating comes with a $1,150 price target- which suggests this hot stock has big upside potential from the current share price of over 11%. "The strong keep getting stronger," says Sebastian. "The bigger drivers of their operations — secular growth trends in e-commerce and digital advertising — are still very strong."
However, he adds that: "TAC [traffic acquisition cost] growth continues to outpace accelerating Google sites growth, due in part to recent changes in partner agreements (presumably Apple)." Google pays Apple a rumored $3 billion to be the default search engine on its devices.
Quotient Technology (NYSE:QUOT)

Quotient Technology is a leading digital promotion platform. Its Coupons.com website is a treasure trove of discounts, offers, promotions, enabling consumers to save money on a vast range of goods. Top RBC Capital analyst Mark Mahaney has just reiterated his buy rating on the stock. The move comes ahead of QUOT's Q3 results date on November 1.
He says "as more retailers get up the QUOT curve, we think QUOT is positioned to deliver high-teens+ growth in its Digital Promotions segment over the next several years. QUOT is also hitting a profitability inflection point, given the record-high Adjusted EBITDA margin in Q2 and the 50%+ incremental EBITDA margins of the past four quarters… And long-term, we continue to believe that Quotient has a significant opportunity to be at the center of the dramatic digital shift in Coupon Marketing."
Mahaney is confident Quotient can hit $17- a 7% upside from its current share price. And so far on QUOT, Mahaney seems to know what he is doing. On this stock specifically he has a very strong track record with an 83% success rate and 31.6% average return.
PRA Health Sciences (NASDAQ:PRAH)

TipRanks #15 analyst, Jefferies' David Windley, has reiterated his approval of PRA Health Sciences. He now has a $97 price target on the stock- one of the world's largest CROs. This is the shorthand for a contract research organization (CRO). These organizations provide support to the pharmaceutical, biotechnology, and medical device industries with research services outsourced on a contract basis.
His price target- now the stock's most bullish call- suggests promising upside potential from the current share price of $82. The company is experiencing strengthening fundamentals as the biotechnology funding environment improves.
The TipRanks database covers over 5,000 stocks from eight different sectors. Furthermore, we monitor all the latest market activity so that investors can make better, data-driven investing decisions.
The post 5 Hot Stocks From The Top 25 Wall Street Analysts appeared first on TipRanks Blog.