EURUSD finally found support and trimmed some of its losses today after the downbeat US Non-farm payroll data. As Fed mentioned earlier that if the economy and the labor market continue to improve, it might think of increasing interest rates earlier than scheduled investors were better dollar on the timing of interest rate increase after every economic release. But Fed in its July statement on interest rates this week on Wednesday said that the slackness still remains in the labor market. After that investors were waiting for the Non-farm Payroll data expecting it to beat the economist's expectations, but the data came out weak which again forced them to reexamine the timing of interest rate increase after the Fed will wind down its bond buying stimulus program. As we say history repeat itself, the market is repeating the same condition when investors were for the tapering by Fed and now they are waiting for an interest rate hike.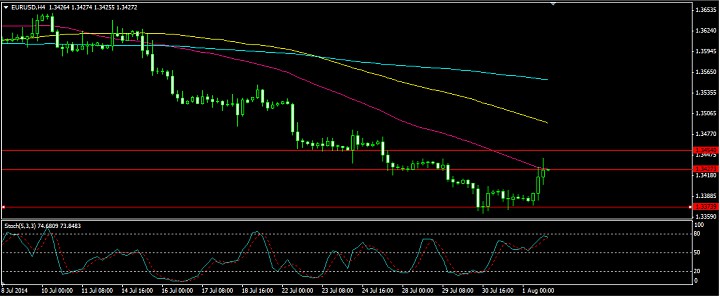 EURUSD : 4 Hour Chart
On the 4 hour chart the pair found support at 1.3373 and rose and trying to cross above the 50 day SMA. Also seems like there is a resistance at 1.3427 which might resist the pair to move it. If the pair breaks this resistance, it will find the next resistance at 1.3454 which was earlier acting as support for the pair.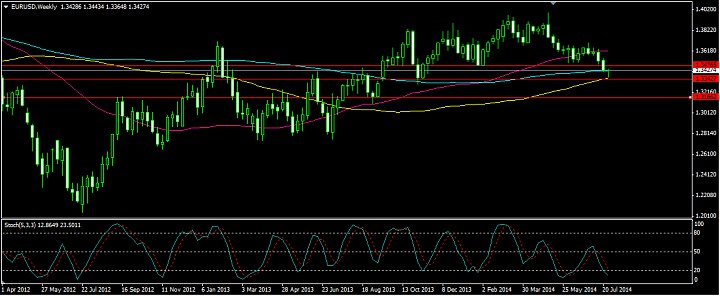 EURUSD : Weekly Chart
Whereas looking at the weekly chart, the pair found support at 1.3342 and rose. Breaking below the 100 day SMA might bring some bearish confirmation to the pair. If it breaks this support the next support it will find at 1.3166. However of it continues to increase the next resistance level it will find is at 1.3476.