US Manufacturing PMI beat expectations, printing 55.7 up from 55.3 prior to its highest since Oct 2014, once again flying in the face of the collapse in US hard-data-base macro. More in line with the underlying reality, Feb Construction Spending dropped for the 3rd month of the last 4 and March ISM Manufacturing tumbled to 51.5, missing expectations of 52.5, to its lowest since May 2013. Under the covers, it is even uglier with the lowest New Orders since Jan 2014 as US Manufacturing data has missed 5 of the last 7 months and dropped for 5 months in a row - which hasn't happened since 2008.
Everything is awesome...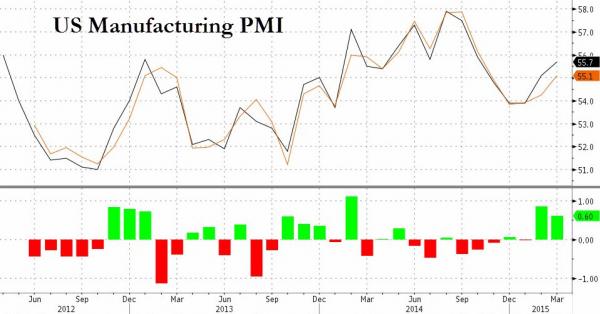 Everything is NOT awesome...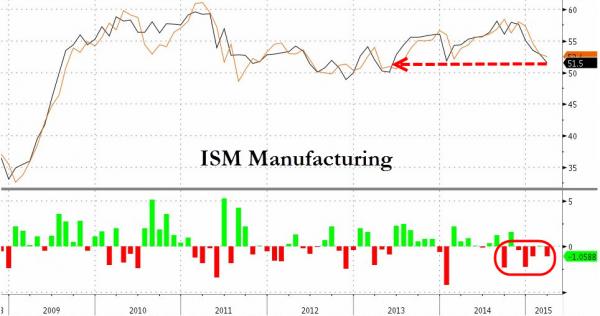 Respondents do not sound unequivocally happy...
"Falling energies have helped on the cost side while sales are getting a boost through improvements in consumer disposable income." (Food, Beverage & Tobacco Products)

 

"Our business is still strong and on projection. Dollar strength is challenging for our international business." (Fabricated Metal Products)

 

"Business is still extremely strong." (Transportation Equipment)

 

"Oil prices impacting drilling and project activity. Pursuing cost reductions from suppliers for a wide variety of goods and services." (Petroleum & Coal Products)

 

"Business really starting to slow down. Oil pricing is having a major effect on energy markets." (Computer & Electronic Products)

 

"Steady Q1 demand but somewhat interrupted by weather." (Primary Metals)

 

"Operating costs are higher due to increases in healthcare premiums." (Miscellaneous Manufacturing)

 

"March business is improving over Jan-Feb, thawing out of this crazy winter." (Paper Products)

 

"Dealing with ongoing delivery issues associated with congestion at the U.S. West Coast and Vancouver ports." (Machinery)

 

"Congestion at the West Coast ports delaying incoming products." (Textile Mills)
And New orders crater - even more not awesome-er...
ISM falls 5 months in a row, first time since 2008 pic.twitter.com/Kdt6CgKUv3

— Not Jim Cramer (@Not_Jim_Cramer)

https://twitter.com/Not_Jim_Cramer/status/583268932963831809
Perhaps the only good news: the unprecedented divergence between Prices "better" and "worse" has finally closed some of its recent record gap.