For the first time since November 2009, the inflation rate in the UK was at the BOE's target of 2%. The inflation report for December was a bit of surprise as economists and analysts expected no change to November's 2.1% rate.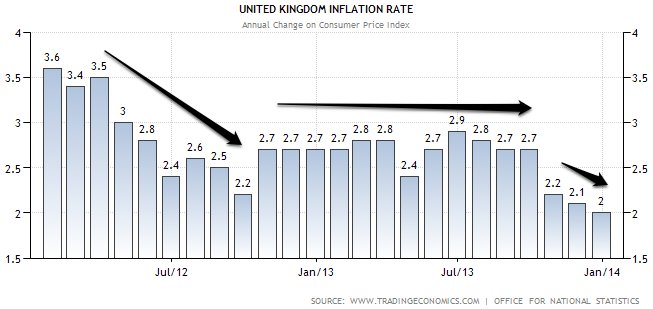 The data point is significant because it means that inflation continues to cool from its average of around 2.7% during 2003, and while wages still remain low, the rise in prices wont be taking as big a chunk out of household's wallets as it did the previous few years.

It also means that the BOE may have more leeway in terms of being able to stall talk of needing to raise interest rates, something the BOE doesn't want to do until the economic recovery has stronger legs.

The GBP was initially weaker following the data, but it has managed to recover against the EUR and USD, as other factors are dominating currency markets following sharp volatility yesterday.

While higher inflation would likely be a positive macro catalyst for the UK as it would work to force the BOE's hand, I believe during the year that the key to the GBP success will come from the general economy and whether the UK is able to outshine its rivals from an economic growth standpoint as most other central banks are nowhere close to raising rates either.
For reference here's a longer term look at the UK inflation picture: