Submitted by Lance Roberts via STA Wealth Management,
This past week has been a virtual tennis match watching the evolution of the Greek bailout negotiations. No Deal, Deal, No Deal, Deal.
However, despite the fallout that would likely come from a Greek "exit," the markets have largely managed to ignore the risk and hit an all-time high this week. Market valuations, bullish sentiment and complacency are all pushing higher as the focus remains on the ignition of the ECB's QE program as a stimulus for the markets. In fact, this is so much the case that the net percentage of managers overweight Eurozone equities is at the highest level on record.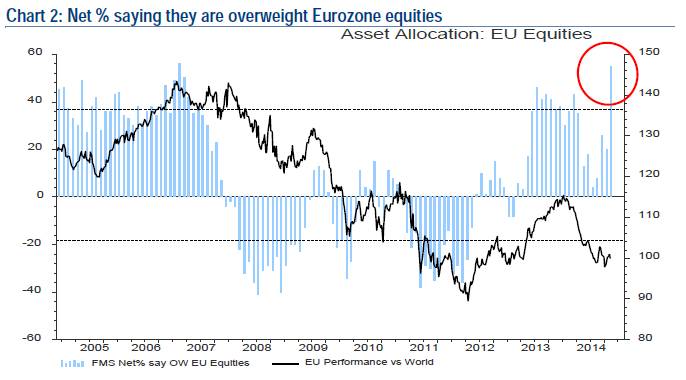 What could possibly go wrong?
This weekend's reading list is a selection of articles discussing a variety of topics I found of interest this past week. However, I highly suggest that you read this week's post on "No Economy Is An Island" which discusses the very important feedback loop of global deflation onto the US economy.
---
1) Fed Destroy's Mainstream Meme by Tyler Durden via ZeroHedge
This past week the Federal Reserve released their latest FOMC minutes which supported my recent writings which discuss the negative effects of falling oil prices on the economy. Tyler picked the following gem out of the released minutes.
"Several participants noted that there were signs of layoffs in the oil and gas industries, and that persistently low energy prices might prompt a larger retrenchment of employment in these industries.

 

In addition, it was observed that if capital investment in energy-producing industries slowed significantly, it could damp the overall expansion of economic activity for a period, especially if the slowing took place after most of the positive effects of lower energy prices on growth in household spending had occurred."
Read Also: Falling Energy Costs And Economic Impacts
Read Also: Get Ready For $10 Oil by A. Gary Shilling via Bloomberg View
2) Lenders Step Up Financing To Subprime Borrowers by Alan Zibel and Annamaria Andriotis via WSJ
"Loans to consumers with low credit scores have reached the highest level since the start of the financial crisis, driven by a boom in car lending and a new crop of companies extending credit.

 

Almost four of every 10 loans for autos, credit cards and personal borrowing in the U.S. went to subprime customers during the first 11 months of 2014, according to data compiled for The Wall Street Journal by credit-reporting firm Equifax.

 

That amounted to more than 50 million consumer loans and cards totaling more than $189 billion, the highest levels since 2007, when subprime loans represented 41% of consumer lending outside of home mortgages."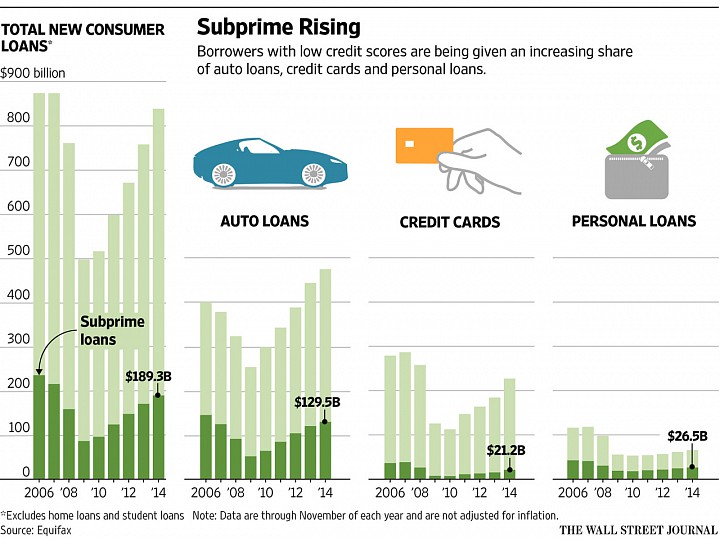 Read Also: Subprime Comeback: The Good, Bad And Ugly by Aaron Task via Yahoo Finance
3) So Much Inconsistency by Jeffrey Snider via Alhambra Partners
"The primary attempt at maintaining such an imbalanced status quo is the 'recovery.' An actual and sustained period of true economic growth would cover a lot of problems, which is why so many Keynesians long so fondly for the 1950's that 'paid' off the huge debts of the 1930's and 1940's. That was always the plan even from the ashes of the panic, as "extend and pretend" was the proffered 'solution' not to the recovery itself but rather bridging the divide between heavy recession and its natural and organic appearance.

 

Unfortunately, seven years can no longer be called a 'bridge', as extending so long amounts to admissions of fecklessness. So QE was changed in the public mind from restoring 'normalcy' (market of last resort; backward redistribution) to an economic management tool via inflation expectations (forward redistribution)."
Read Also: No Central Planners Needed by John Stossel via Reason.com
4) The Paradox Of Negative Interest Rates by Izabella Kaminska via FT Alphaville
"As Paul Krugman always likes to recount, strange things happen at the zero bound. Macroeconomics gets weird. Liquidity traps prevail. And a whole slew of paradoxes come into being.

 

And that's largely because below the zero bound things get even stranger still.

 

What you think should happen, doesn't, and what you think definitely won't happen, does. Furthermore, negative interest rates don't just kill off the traditional point of banking, they encourage bad incentives and dubious market practices for all purveyors of capital."
Read Also: Why The Alarms About A Slight Rate Hike? by Omid Malekan via The WSJ
5) Equity Markets No Place For Long-Term Investors by John Hussman via Hussman Funds
"Last week's advance had the earmarks of a short-squeeze, featuring a low-volume advance to marginal new highs on a number of indices including the S&P 500, on hopes that a Greek bailout and a firming in oil prices will put a floor under global economic deterioration. On factors that affect our estimate of the market return/risk profile, credit spreads remain broadly wider than they were a few months ago, and our primary measures of market internals remain unfavorable. Meanwhile, equity valuations – on the most historically reliable measures we identify – are now fully 117% above their pre-bubble norms, on average. As of Friday, our estimate of prospective 10-year S&P 500 annual nominal total returns has declined to just 1.4%, suggesting that even the dismal 2% yield-to-maturity on 10-year bonds is likely to outperform equities in the decade ahead."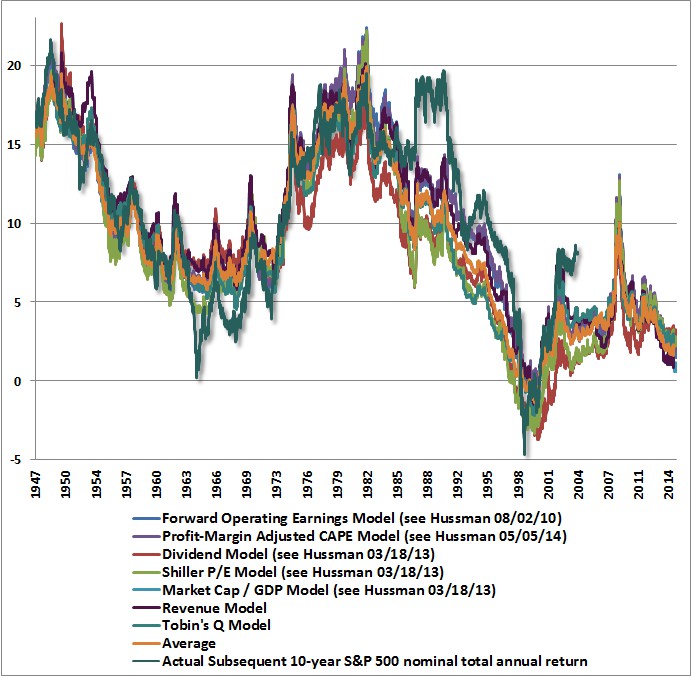 Read Also: Foreign Equities Not As Cheap As You Think by Kevin McDevitt, CFA via Morningstar
Research: Global Economy Back Into Contraction by Goldman Sachs via ZeroHedge
---
For Fun: "Regular Guy's Guide To Fifty Shades Of Grey"
---
""I want you to become well acquainted, on first name terms if you will, with my favorite and most cherished part of my body. I'm very attached to this." - 50 Shades Of Grey
Have A Great Weekend