Allergan plc AGN is scheduled to report first quarter 2016 results before the opening bell on May 10. The company delivered a positive earnings surprise of 1.19% in the fourth quarter. Let's see how things are shaping up for the first quarter announcement.

Acquisitions to Drive Earnings

Allergan's top as well as bottom line should continue to be driven by the acquisition of Botox-maker Allergan Inc. as well as other acquisitions. However, Namenda IR is facing generic competition.

Investors will be interested to hear about Namzaric's performance. Namzaric was launched in the second quarter of 2015 and is expected to help reduce the impact of the Jul 2015 entry of Namenda IR generics. Namzaric sales should pick up from 2016 reflecting the impact of the DTC campaign launched in September and formulary coverage.

Post the termination of the Pfizer, Inc. PFE combination deal, Allergan reiterated its 2016 revenue guidance of about $17 billion including branded net revenues of approximately $15 billion.  

Revenues will be back-half weighted reflecting typical pharma seasonality. Moreover, contribution from launches are expected to be greater in the second half of the year. On its fourth quarter call, the company had said that it expects first quarter 2016 revenues to be lower sequentially. The first quarter will also be the lowest quarter of the year, with each quarter subsequently increasing.

Meanwhile, with the company supporting new product launches this year like Kybella, Viberzi and Vraylar, SG&A as a percentage of revenue will be higher in the first quarter and will trend downwards as the year progresses.

The performance of new product launches like Avycaz (treatment for adult patients with complicated intra-abdominal and urinary tract infections) and Viberzi (adults suffering from irritable bowel syndrome with diarrhea) will also be in focus.

Meanwhile, Allergan expects to complete the sale of its generics business to Teva Pharmaceutical Industries Ltd. TEVA in June. Allergan is currently treating its generics business as discontinued operations. With after-tax cash and equity proceeds of approximately $36 billion expected from the Teva transaction, Allergan could use the funds to pay down debt or invest in the business or explore other options like share buybacks.
On the first quarter call, Allergan intends to provide an update on its plans to simplify company operations post the close of the Teva transaction.

Surprise History

The company has had a decent run over the last four quarters with earnings surpassing expectations in three quarters and meeting expectations in the second quarter of 2015. The average beat over the last four quarters is 5.48%.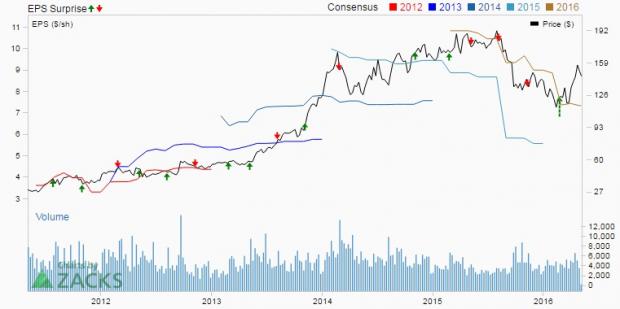 Earnings Whispers?

Our proven model does not conclusively show that Allergan is likely to beat estimates this quarter. That is because a stock needs to have both a positive Earnings ESP and a Zacks Rank #1 (Strong Buy), #2 (Buy) or #3 (Hold) to be able to beat earnings. That is not the case here as you will see below.

Zacks ESP: Earnings ESP, which represents the difference between the Most Accurate estimate and the Zacks Consensus Estimate, is -1.00%.

Zacks Rank #3 (Hold): Note that stocks with Zacks Ranks of #1, #2 and #3 have a significantly higher chance of beating earnings. The Sell-rated stocks (#4 and #5) should never be considered going into an earnings announcement.

Other Stocks to Consider

Here is a health care company you may want to consider as our model shows that it has the right combination of elements to post an earnings beat this quarter:

Jazz Pharmaceuticals JAZZ has an Earnings ESP of +6.11% and carries a Zacks Rank #3. It will be reporting first-quarter results on May 10.

Want the latest recommendations from Zacks Investment Research? Today, you can download 7 Best Stocks for the Next 30 Days. http://www.zacks.com/registration/pfp/?ALERT=RPT_7BST_LP194&... blog">Click to get this free report >>
 
Want the latest recommendations from Zacks Investment Research? Today, you can download 7 Best Stocks for the Next 30 Days.
Click to get this free report
PFIZER INC (PFE): Free Stock Analysis Report
ALLERGAN PLC (AGN): Free Stock Analysis Report
JAZZ PHARMACEUT (JAZZ): Free Stock Analysis Report
TEVA PHARM ADR (TEVA): Free Stock Analysis Report
To read this article on Zacks.com click here.
Zacks Investment Research