StockTwits Released Yesterday @EquityClock
Crude oil inventories still on track to peak in the next few weeks.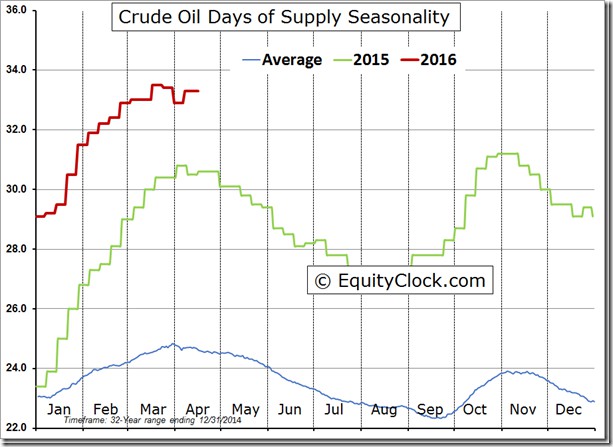 Technicals for S&P 500 stocks to Noon: Mixed. Breakouts: $UA,$F,$TSCO,$WMB,$WLTW,$WFC,$WFC,$DHR,$UNP. Breakdowns: $MAT,$DPS,$MO,$SJM,$MAC,$DAL,$CNP,$FE
Editor's Note: Technical weakness in S&P 500 stocks was extended after Noon. Additional breakdown included Clorox, Hershey, General Growth Properties and Republic Waste.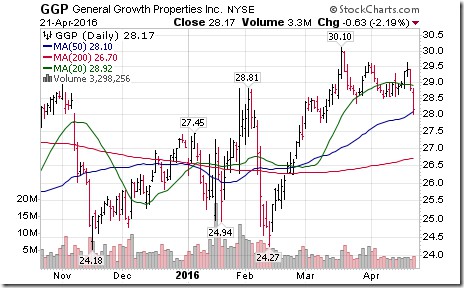 Nice breakout by Power Corp $POW.CA above resistance at $30.75 to extend an intermediate uptrend.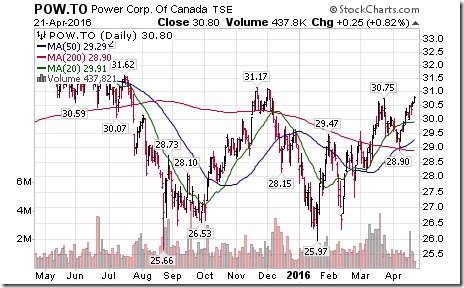 Nice breakout by ARC Resources $ARX.CA above resistance at $20.10 to extend an intermediate uptrend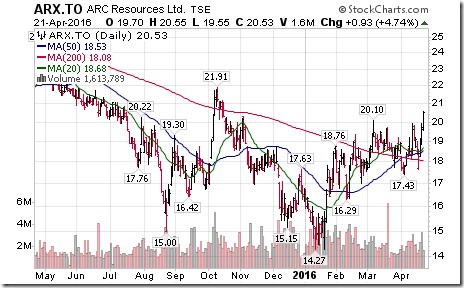 Trader's Corner
Daily Seasonal/Technical Equity Trends for April 21st 2016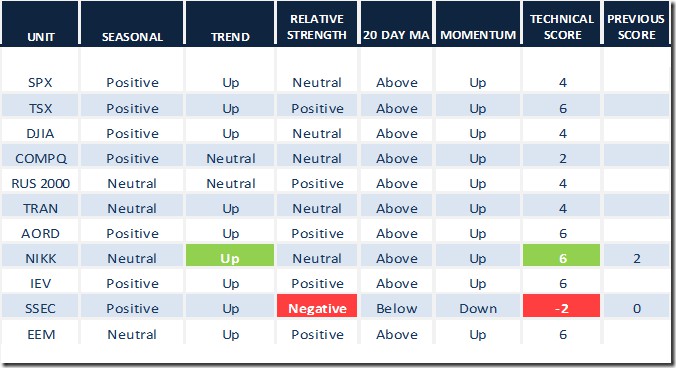 Green: Increase from previous day
Red: Decrease from previous day
Daily Seasonal/Technical Commodities Trends for April 21st 2016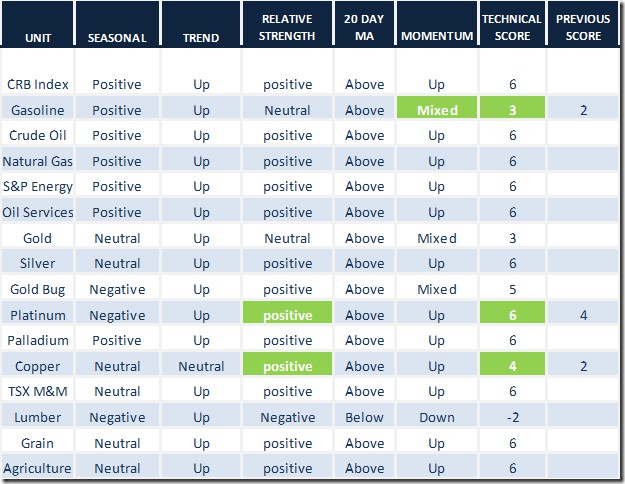 Green: Increase from previous day
Red: Decrease from previous day
Daily Seasonal/Technical Sector Trends for March April 21st 2016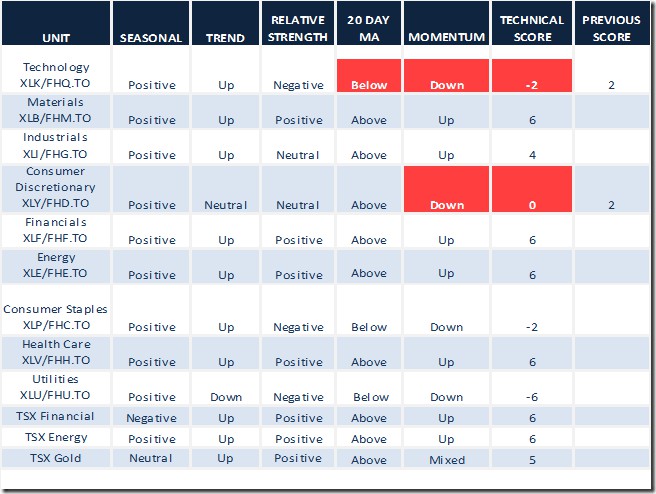 Green: Increase from previous day
Red: Decrease from previous day
Interesting Charts
European equity indices and related ETFs continue to strengthen. Even Greece!!!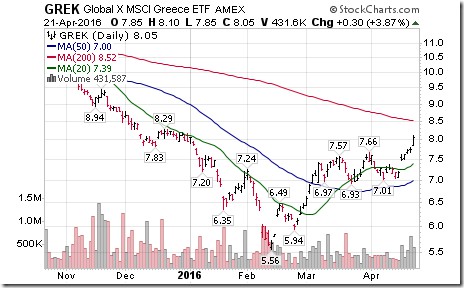 Nice breakout by the Nikkei Average above 17,291.35 to complete a double bottom pattern.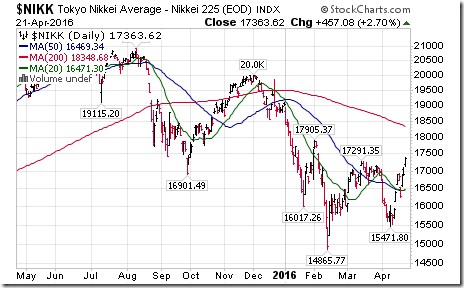 The biotech sector continues to move higher during its period of seasonal strength from mid-April to mid-September.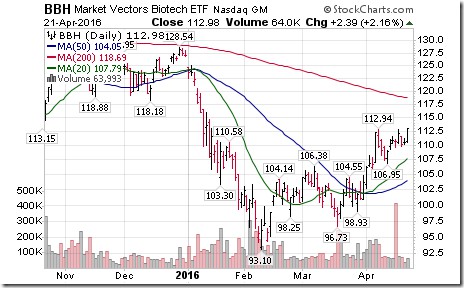 Aluminum prices continue to bottom. Wild day yesterday by the Aluminum ETN, up 10.69%!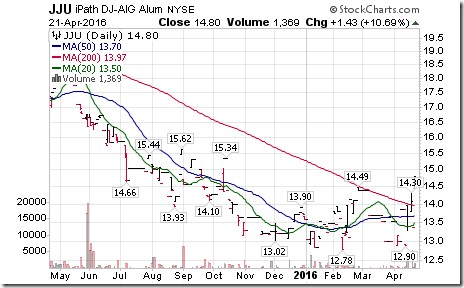 Long term bond prices continue to weaken prior to the next FOMC meeting on April 26/April 27. A break by TLT below $126.95 will trigger a downside technical event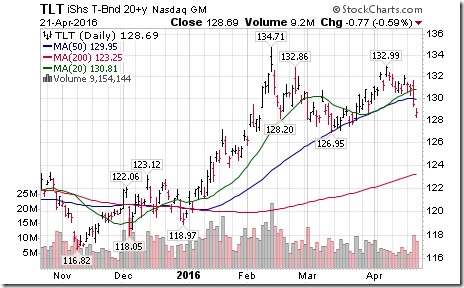 Higher bond yields have triggered downside technical pressure on interest sensitive equities and related ETFs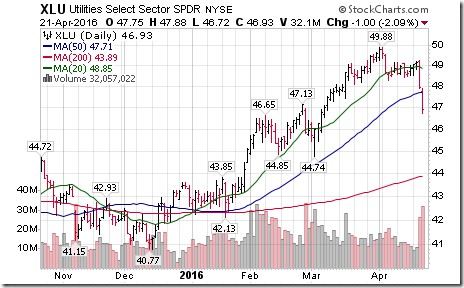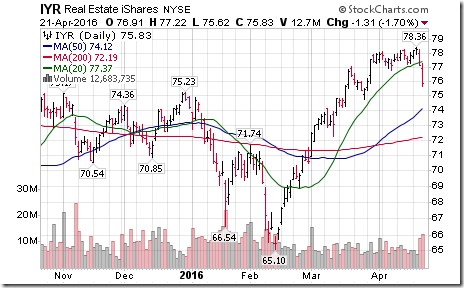 Rotation out of Consumer Staple equities and ETFs on higher than average volume also was notable.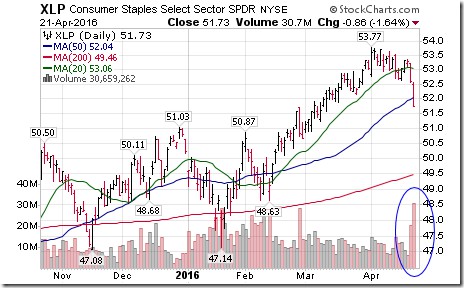 A word of caution on the technology sector! Google and Microsoft fell sharply after the close when quarterly results proved to be less than consensus. The S&P Information Technology SPDRS will test support at $43.55 at the opening. A break below support could trigger a negative technical event in the sector. The sector already is flashing technical warning signals: Negative relative strength, a move yesterday below its 20 day moving average and downtrends by short term momentum indicators.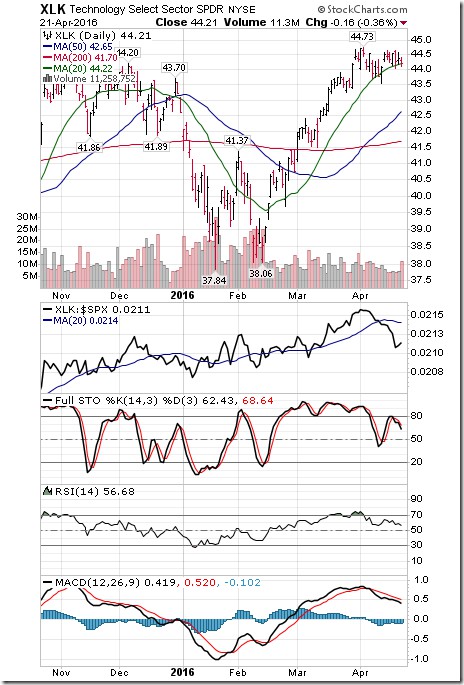 S&P 500 Momentum Barometer
Continuing weakness in interest sensitive and consumer staple sectors triggered a significant drop in the barometer. Yesterday, the barometer dropped to 79.60% from 86.40%. It remains intermediate overbought and has just established an intermediate downtrend.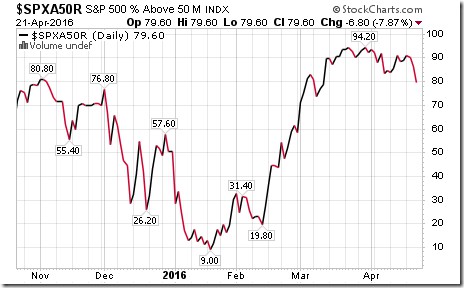 TSX Composite Momentum Barometer
Renewed signs of a rollover from an intermediate overbought level! The barometer dropped yesterday to 80.34% from 84.19%.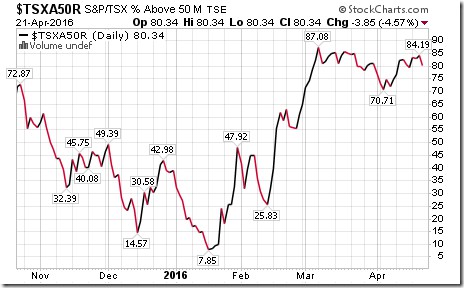 Special Free Services available through www.equityclock.com
Equityclock.com is offering free access to a data base showing seasonal studies on individual stocks and sectors. The data base holds seasonality studies on over 1000 big and moderate cap securities and indices. To login, simply go to http://www.equityclock.com/charts/ Following is an example: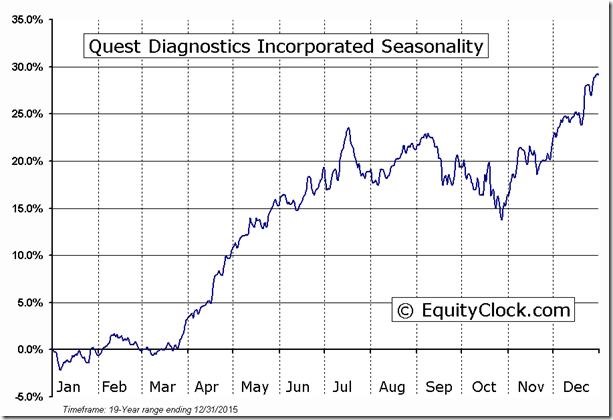 CSTA Events
The Toronto chapter is sponsoring a Traders Technical Workshop: Identifying Turning Points in the Markets. Date and time: 10:00 AM EDT on Saturday April 23rd. Presenter is Edmond Wong. Location is Richmond Hill Public Library Central Branch. Register at www.csta.org Bring your notebook computer!
The Winnipeg chapter is sponsoring Winnipeg Technicians Day on Saturday April 30th. Speakers include Don Vialoux, Colin Cieszynksi, Harold Davis, Allen Hosey and Greg Schnell. Cost is $97 per participant. Register at www.csta.org. See you in Winnipeg.
Disclaimer: Seasonality and technical ratings offered in this report by www.timingthemarket.ca and www.equityclock.com are for information only. They should not be considered as advice to purchase or to sell mentioned securities. Data offered in this report is believed to be accurate, but is not guaranteed