ANSYS Inc ANSS is set to release third-quarter 2017 earnings on Nov 1.

Notably, the company has beaten the Zacks Consensus Estimate in the trailing four quarters, with an average positive surprise of 5.02%. Last quarter, the company delivered a positive earnings surprise of 8.79%.

For third-quarter 2017, ANSYS expects non-GAAP earnings in the range of 94-98 cents per share. Net revenues are anticipated in the range of $258-$267 million. The company expects gross margin of 90% and operating margin between 47% and 48%.

The Zacks Consensus Estimate for earnings is currently pegged at 97 cents on revenues of $264 million.

ANSYS, Inc. Price and EPS Surprise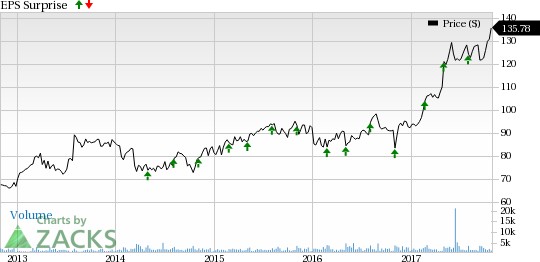 Notably, the stock has returned 46.8% year to date, substantially outperforming the 36.3% rally of the industry.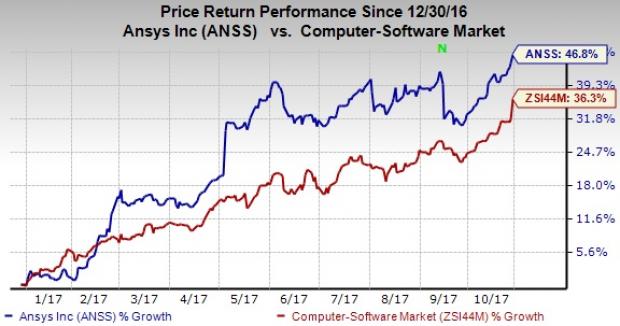 Let's see how things are shaping up for this announcement.

Strong Demand for Simulation Tools to Drive Growth

ANSYS is a dominant player in the high-end design simulation software market. The company's solutions are in demand due to the rising complexity in product design. Additionally, increasing demand for energy efficient products is a key catalyst.

ANSYS' strong simulation portfolio is helping it to rapidly grow total addressable market (TAM). This will drive top-line growth in the soon-to-be reported quarter. Moreover, growing recurring revenues base (almost 75%) is significantly positive.

During the quarter, the company unveiled ANSYS Discovery Live that supports fluids, structural and thermal simulation applications. The software enables engineers to experiment with design ideas and see instant feedback.

Notably, the combination of NVIDIA Corporation's NVDA graphic processing units (GPUs) and ANSYS Discovery Live simulation software makes result calculations a thousand times faster compared with traditional methods.

We note that ANSYS simulation tools received certification from Intel Customer Foundry during the quarter. The company also collaborated with Taiwan Semiconductor Manufacturing Company for an Automotive Reliability Solution Guide, which will help in accelerated development of new-age automotive features.

Moreover, collaborations with leading vendors like PTC and Synopsys SNPS are strong growth drivers for the company's products.

The Zacks Consensus Estimate for total lease revenues is currently pegged at $95 million, which reflects year-over-year growth of more than 10%.

Declining Perpetual License to Hurt

ANSYS expects the transition from perpetual license contracts to longer term, time-based licenses at some of the company's largest customers (in mature markets like the United States and Japan) to affect software license and maintenance revenues growth in the near term.

Moreover, weakness in Europe and adverse foreign currency exchange rates are other major concerns.

Further, ANSYS expects to incur additional charges of $2 million ($1.3 million, net of tax), primarily in the quarter, related to additional realignment charges. This will drag profitability.

The Zacks Consensus Estimate for total perpetual revenues is currently pegged at $54 million, which remains almost flat on a year-over-year basis.

Unfavorable ESP

We believe that ANSYS is unlikely to deliver a positive earnings surprise in the third quarter due to an unfavorable combination of Zacks Rank #3 (Hold) and Earnings ESP of 0.00%. You can uncover the best stocks to buy or sell before they're reported with our Earnings ESP Filter.

We don't recommend Sell-rated stocks (Zacks Rank #4 or 5) going into the earnings announcement, especially when the company is seeing negative estimate revisions.

Stock to Consider

Here is a stock you may consider as our proven model shows it has the right combination of elements to post an earnings beat this quarter.

HubSpot Inc HUBS has an Earnings ESP of +26.53% and carries a Zacks Rank #2 (Buy). You can see the complete list of today's Zacks #1 Rank (Strong Buy) stocks here.
Zacks' Best Private Investment Ideas
While we are happy to share many articles like this on the website, our best recommendations and most in-depth research are not available to the public.
Starting today, for the next month, you can follow all Zacks' private buys and sells in real time. Our experts cover all kinds of trades… from value to momentum . . . from stocks under $10 to ETF and option moves . . . from stocks that corporate insiders are buying up to companies that are about to report positive earnings surprises. You can even look inside exclusive portfolios that are normally closed to new investors.
Click here for Zacks' private trades >>
Want the latest recommendations from Zacks Investment Research? Today, you can download 7 Best Stocks for the Next 30 Days.
Click to get this free report
HubSpot, Inc. (HUBS): Free Stock Analysis Report
Synopsys, Inc. (SNPS): Free Stock Analysis Report
ANSYS, Inc. (ANSS): Free Stock Analysis Report
NVIDIA Corporation (NVDA): Free Stock Analysis Report
To read this article on Zacks.com click here.
Zacks Investment Research