In the New "Paranormal" (as we're fond of calling it) economies and financial markets are characterized by quite a few depressing and some outright bizarre dynamics. For instance, under NIRP, saving money will cost you money, but you are paid to take out a mortgage meaning that effectively, savers are subsidizing home loans in some parts of the world. Similarly, investors must now pay for the privilege of loaning European countries money and in some cases, these are countries whose sovereign debt was yielding 7% just a few years ago. Meanwhile, Japan is running the largest ponzi scheme in history and while the BoJ are monetizing every IOU the Japanese government cares to print, the central bank is simultaneously underwriting the country's stock market by purchasing ETFs in droves. This epic distortion of financial markets was supposed to spur worldwide economic growth and save consumers from the deflationary bogeyman (because who doesn't want to pay more for things?), but hasn't really done a great job in either respect. Indeed it appears that the world may just have to get used to tepid growth and manipulated markets until some central planner somewhere finally allows everything to normalize a process which, thanks to the countless market distortions CB policy has wrought, will be exceptionally painful. 
In the mean time, Ben Bernanke and Larry Summers (and of course Paul Krugman had to chime in) have taken to trolling each other's blogs to "debate" secular stagnation and now the IMF is out with their take on whether, in the new normal, the world's productive capacity may remain stuck in low gear for the foreseeable future. Here's more:
In the years since the global financial crisis many economies have witnessed slower expansions in one or more of these key components of potential output growth (see chart 1). Lower potential growth in advanced economies has been driven in roughly equal measure by slower capital accumulation and labor growth—due primarily to adverse demographics. In emerging market economies much of the decline is attributable to slower productivity growth…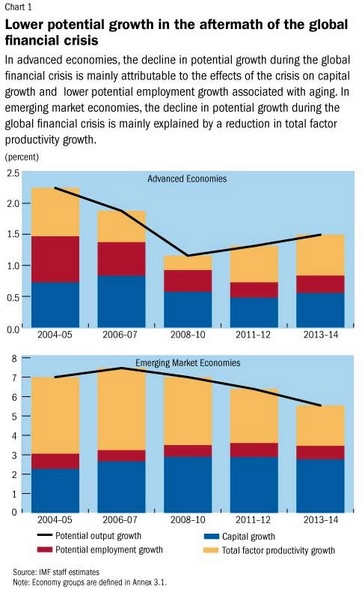 As economic conditions improve and activity recovers, investment growth should pick up, fostering a gradual recovery in productive capital growth in many advanced economies. However, prospects for the labor force are grimmer. As chart 2 shows, demographic factors are likely to act as a brake on growth in many advanced and emerging market economies, as populations age and workers retire…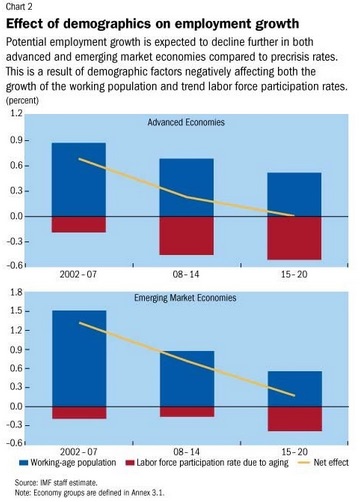 In other words, the good old days aren't coming back...
Productivity growth is not expected to pick up under current policies. In emerging market economies, past technological improvements and enhanced educational attainment have allowed these economies to narrow the gap between themselves and advanced economies. Although more strong growth can still be achieved from further improvements in these areas, the returns to education and innovation are unlikely to be as large as they were initially, when these economies were further from the technological frontier. This suggests weaker productivity growth in these economies in the future.

 

For their part, advanced economies should see productivity growth near recent rates in coming years. Still, the rapid pace of expansion seen in the late 1990s and early 2000s—fueled by the exceptional information-communication-technology boom—is unlikely to be restored.

 

In sum, these scenarios suggest that potential growth in advanced economies is likely to remain below precrisis rates, while it is expected to decrease further in emerging market economies in the medium term.
The IMF goes on to ask whether there's a global slump in real private investment (spoiler alert: yes there is and it's broad-based and endemic in advanced economies)...
The sharp contraction in private investment during and since the global financial crisis combined with the subsequent weak recovery is largely an advanced economy phenomenon. For advanced economies as a whole, private investment during 2008–14 declined by 25 percent compared with forecasts made in early 2007, before the onset of the crisis. The weakness in investment is evident across almost all advanced economies, although some economies saw a limited contraction in private investment and a more rapid recovery, due, for example, to mining and energy booms, as in Australia, Canada, and Norway.
...and the problem cuts across categories...
...and is particularly acute in business investment due to depressed economic activity...
How might weak economic activity cause business investment to decline? A standard implication of theoretical models is that firms reduce investment when opportunities for selling their products are limited. A weak current and prospective economic climate and, hence, low current and expected sales are thus likely to deter firms from investing in new capital. Weak product demand can also hamper investment through the "financial accelerator" channel, in which credit markets amplify and propagate both real and monetary shocks across the economy.8 For instance, a drop in sales may damage a firm's financial position, constraining its ability to repay loans and borrow to finance further investment.