Activision Blizzard is going to report their second quarter earnings after the closing bell today and it means that we need to use this chance. I'm not a big fan of different console and PC games, but their Overwatch became really popular. We should definitely check the financials before we can say that it is an efficient product or not, but they recently surpassed 10 million players. The stock isn't too volatile after the earnings, however the most recent Q1'16 earnings call was followed by a 9% jump due to beating the estimates. 
Analysts are mostly positive on them - 8 buy and 9 outperform recommendations without any sell underperform ones. Their revenue consensus is more than two times higher than top-line revenue in Q2'15, moreover it's almost 80% up compared to Q1'16:

Source: Financial Times
It will really difficult for Activision Blizzard to beat the estimates, because the growth numbers that analysts highlighted are too high. However, if it happens, we'll see a huge volatility jump. However, results below the consensus will also burst the volatility bubble, because traders are waiting for great results. Activision Blizzard isn't Tesla, which reported a huge miss to analsysts estimates and the stock climbed 1% in after-hours trading. That's not because Tesla is a better company or a stock, it's because people like it too much. 
I suggest that buying a straddle would be the best solution. I think that 41 call and 41 put could be the best option in our case. I decided to choose . However, if you want to get a certain compensation - you can see OTM put and call option. It will help you to decrease your initial investment, however it will limit your profits as well. If you decide to hedge your straddle, your initial outlay will be the following: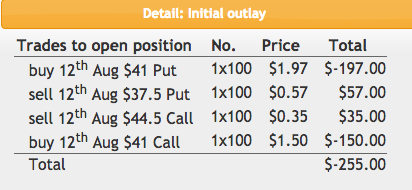 In this case, your P&L chart will have the following form: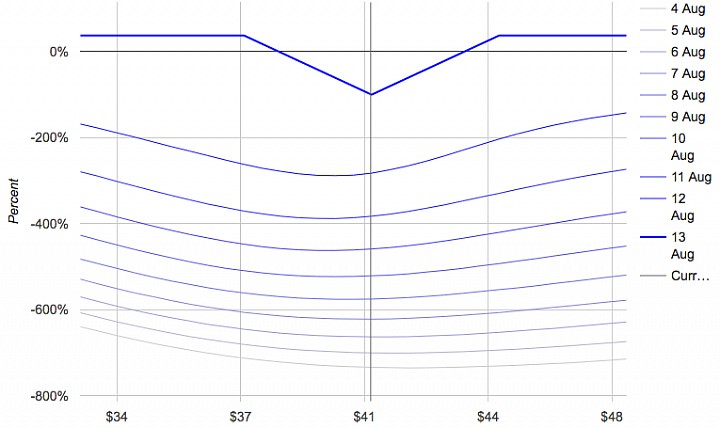 As you may notice from the outlay, I used Aug 12 as an expiration date. The maximum return in this case will be 41%. If ATVI goes beyond $38.5-$43.5 range, you'll start making money. If you want to get a higher return, you can add some risk to the strategy and use Aug 5 as an expiration date. In this case you can get up to 60% return in just 1 day. This hefty return is accompanied with a higher risk. Basically the stock should move more than 6% in after-hours trading.