Invest with Confidence. Are you a financial professional? Stay on top of your portfolio with Benzinga Pro's real-time newsfeed and alerts and never miss a headline again.
Don't miss the chance to try it FREE today.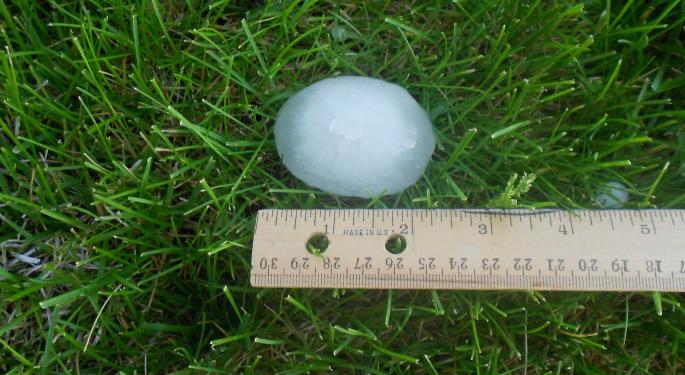 The latest data from TickerTags indicates that the unusually high number of severe weather events in the South and Southwest could end up having an impact on the bottom lines of a number of companies. Social media has been buzzing about hail damage, which is good news for some companies and bad news for others.
TickerTags monitors social media sites to identify trends by searching for words and phrases that appear together in social media content, such as tweets.

The National Oceanic and Atmospheric Administration (NOAA) reports hailstorms produced $14.1 billion in damages in Q2 of 2015 and $3.9 billion in damages in Q3 of last year. According to social media data, the damage from the recent storms could be even more costly. Peak social media mentions of "hail" + "damage" have far exceeded last year's peak mentions during the past month. In fact, the number of social media mentions of hail damage was up 86 percent year-on-year in Q1.
Related Link: Wrestlemania 32 Broke Social Media Records, But It's Not All Good News
Auto companies with exposure to the Southwest may be dealing with significant hail damage costs so far in 2016. CarMax, Inc KMX 1.82% could be one of the hardest hit, because 12.4 percent of its lots are located in Texas and Oklahoma.
On the other hand, wholesale roofing companies like Beacon Roofing Supply, Inc. BECN 1.43% could see a significant boost to business. General home improvement retailers like Home Depot Inc HD 0.87% and Lowe's Companies, Inc. LOW 0.84% could see a moderate impact as well.
Disclosure: The author holds no position in the stocks mentioned.
© 2016 Benzinga.com. Benzinga does not provide investment advice. All rights reserved.