Today, the Reserve Bank of Australia voted to hold its official cash rate at 2.00%. 
RBA Statement
This was mostly expected, but it was the language of the statement that caused the market to bid up the Australian dollar afterwards. The RBA has been expressing concerns of the Aussie being too high This statement did not have this concern. Furthermore, inflationary risks were noted, especially from the housing market. It sounds like the RBA is less likely to cut rates after today's statement compared to the previous one. The Aussie got a boost from this less dovish, more hawkish statement.
Let's take a look at AUD/USD and AND/NZD.

AUD/USD 4H Chart 8/4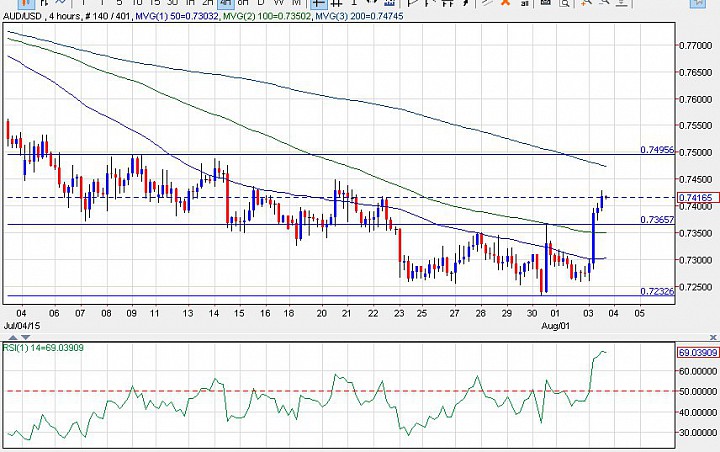 (click to enlarge)
As we can see in the 4H AUD/USD chart, the pair completed a price bottom and is in a bullish correction. The next key level to monitor should be around 0.9490-0.95. Here price would be challenged by a previous resistance and the 200-period simple moving average. It would also just about satisfy a range breakout projection, taking the range of the broken price bottom (0.7365-0.9232, around 130 pips). 

While the RBA does seem to be slightly more hawkish, we should limit the bullish outlook in AUD/USD because the the FOMC might still be more hawkish. On the other hand, it might be prudent to put on the brakes if you are a AUD/USD-bear. Get ready for a period of choppy consolidation.

AUD/NZD is also in a strong bullish reaction: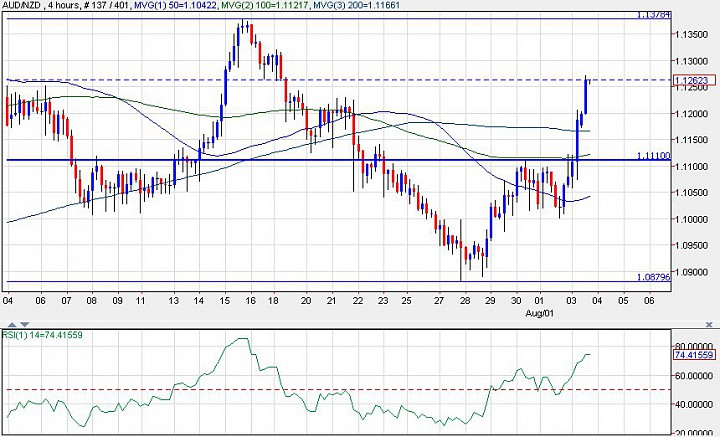 (click to enlarge)

The 4H chart shows the AUD/NZD in another bullish swing since rebounding from 1.0880. Now, in the 4H chart, the market looks neutral. But this neutral mode only represents July's price consolidation following a 3-month bull run from the 2015 and April's 1.0020 low to the 2015-high of 1.1443 at the start of July.

The AUD/NZD is more likely to have a bullish continuation than the AUD/USD, which is more likely to shift from a bearish to neutral mode. If we see a dip towards 1.11 by the AUD/NZD, get ready for support, with upside risk towards the 1.1378 and then the 1.1428 highs.