Volkswagen AG VLKAY has recalled 385,000 cars in Germany according to The Wall Street Journal. The recalled brands include Volkswagen's own, along with Audi and Skoda. The total cost to update the software is estimated to be $1.7-$2.8 billion.

Per news, these vehicles in certain driving conditions, such as over-steers, under-steers or slams on the brakes, might function improperly due to defective brake control system. In the recalled vehicles, software will be updated for their anti-lock brake systems. This recall comes soon after the German Transport Ministry pushes for updating engine control software in 12 million diesel vehicles across the country in order to cut down on nitrogen oxide pollution by 25%. The government wants automakers to bear the updating cost of emission systems in diesel-based cars.

Based in Wolfsburg, Germany, Volkswagen is the largest automobile manufacturer in Europe. They design, manufacture and distribute products and services along the entire automotive value chain. While each brand has a distinct personality, it also benefits from its membership of the Volkswagen Group with a global manufacturing base.

Price Performance

Volkswagen shares have outperformed the Zacks categorized Automotive-Foreign industry in the last three months. The company's shares rose 5% compared with the industry's decline of 2.7%.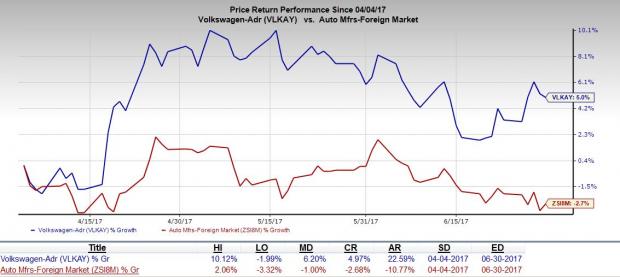 Zacks Rank & Key Picks

Volkswagen currently carries a Zacks Rank #2 (Buy).

Volkswagen AG Price and Consensus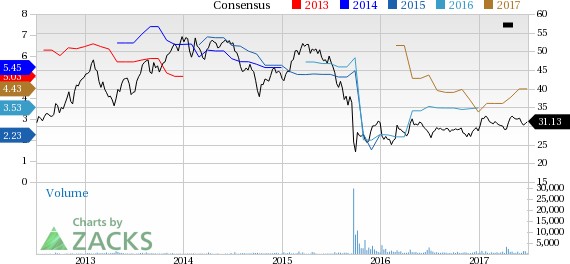 A few other top-ranked companies in the same space are Cummins Inc. CMI, Ferrari N.V. RACE and Dana Incorporated DAN. Cummins and Ferrari sport a Zacks Rank #1 (Strong Buy), whereas Dana carries a Zacks Rank #2 (Buy). You can see the complete list of today's Zacks #1 Rank stocks here.

Cummins has an expected long-term growth rate of 11.7%

Ferrari has an expected long-term growth rate of 14.1%

Dana has an expected long-term growth rate of 3%.

5 Trades Could Profit "Big-League" from Trump Policies

If the stocks above spark your interest, wait until you look into companies primed to make substantial gains from Washington's changing course.

Today Zacks reveals 5 tickers that could benefit from new trends like streamlined drug approvals, tariffs, lower taxes, higher interest rates, and spending surges in defense and infrastructure. See these buy recommendations now >>
Want the latest recommendations from Zacks Investment Research? Today, you can download 7 Best Stocks for the Next 30 Days.
Click to get this free report
Volkswagen AG (VLKAY): Free Stock Analysis Report
Dana Incorporated (DAN): Free Stock Analysis Report
Ferrari N.V. (RACE): Free Stock Analysis Report
Cummins Inc. (CMI): Free Stock Analysis Report
To read this article on Zacks.com click here.
Zacks Investment Research