Looking for more expert commentary and daily trading ideas on AAPL? Find out how you can use this deal to get started on our Benzinga Professional new and data platform today.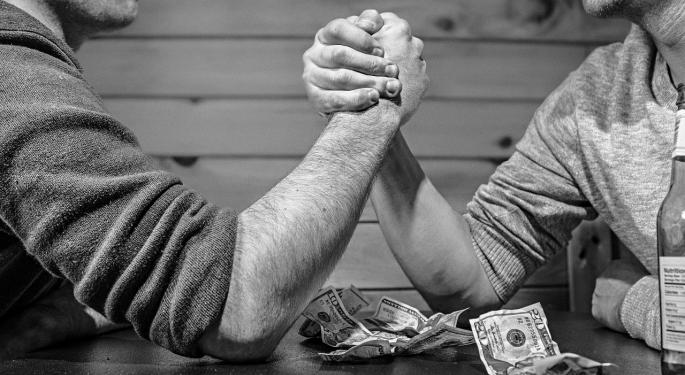 SunGard's Astec Analytics looks into short-selling activity weekly.
SunGard's Astec Analytics provides intraday short-selling market data via securities lending analytics. In a recent report sent to clients, the firm shared a "roundup of some of the hottest stocks from a securities lending perspective."
Below is a look at Karl Loomes' list of top stocks in the Americas – from a security lending perspective.
Apple
Same as last week, Apple was Astec's top pick for the Americas this week. The company was once again in the spotlight as it released its new iPhone 6S, "which as usual saw fans queuing around the street in anticipation."
Management said that based on pre-orders it anticipates sales in the first weekend to surpass the 10 million units its predecessor sold last year. "Despite this, the company's share price saw fairly mixed trade during the week," the report assured.
"While Astec's data suggests [sic] short sellers have been taking a bearish view for the firm over the past month, during which time borrowing volumes have climbed 32 percent."
GoPro
Maintaining its spot from last week, GoPro is number two in Astec's list.
This week Facebook Inc FB 3.14% launched a new 360-degree video facility, which GoPro cameras "are set to dominate in, utilizing a proprietary six-camera spherical rig that was announced earlier this year," the report explained.
However, Loomes noted, wider concerns regarding the wearable technology industry were noticeable in trading action for the most part. In fact, the number of GoPro shares being borrowed climbed roughly four times higher over September, hitting their highest levels since the company went public.
Chesapeake Energy
Also maintaining its spot from last week is Chesapeake. Over the past week, oil prices took another blow, following the release of official data from the U.S. Energy Information Administration (EIA), which showed crude production in the United States has increased to 9.14m/bpd. In addition, The Street's online research platform rates the stock a sell.
"The ongoing trouble with the oil markets saw its shares pressured during the week, though on the borrowing front our data hints at the first stages of slackening demand to short sell its stock, with the cost of borrowing falling from more than 16 percent to about 12 percent," Loomes expounded.
Fitbit
Fitbit was once again on the spotlight this week, following the release of official exchange short selling data, which showed short sellers were reducing their positions in the company. Nonetheless, Astec's data, "which covers the period that the official numbers have...
More