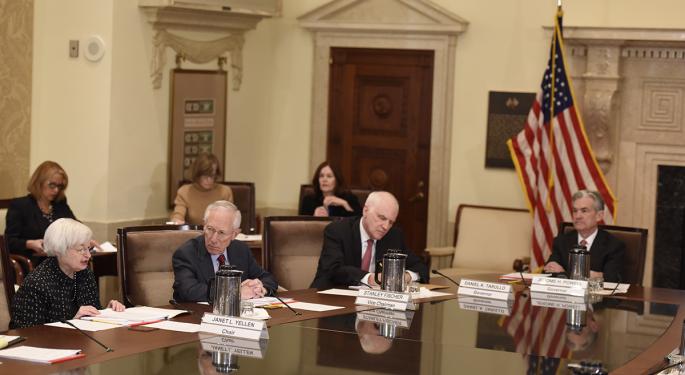 President-elect Donald Trump hinted during the campaign trail that he may repeal or roll-back the Dodd-Frank Wall Street Reform and Consumer Protection Act. This fact helped boost financial stocks higher, even though it remains unclear what actions Trump will take once he assumes control of the White House.
A Realistic Look Forward
According to the Wall Street Journal, big banks are actually calling on Trump not to trash the act at a time when a proposal to replace the act has gained momentum since Trump won the election.
Common logic dictates that big banks are held back under Dodd-Frank, and to an extent, they were. For instance, banks were forced to exit several business segments including proprietary trading and change their corporate structures to make their business models safer for clients. After more than five years and hundreds of millions of dollars already spent to adapt to the new regulations, big banks are unlikely willing to throw all of this out the window and start fresh.
"The first thing I would ask for is nothing new, no new rules," the Wall Street Journal quoted Citigroup's finance chief John Gerspach as saying. "If you haven't figured out yet how all the existing rules work together, don't put on anything else."
There are a few aspects of regulations that big banks do want to see changed. For example, banks would like to see the Fed's stress tests take less time and money and be based on more objective criteria.
Other changes big banks would appreciate include making the Volcker Rule less burdensome and overseen by fewer than five agencies and clarifying rules on capital requirements so it is clear how much capital is really enough.
At last check, the Financial Select Sector SPDR Fund XLF 0.68% was up 0.28 percent at $23.55. The SPDR S&P 500 ETF Trust SPY 0.04% was up 0.05 percent at $224.71.
Image Credit: Board discusses Dodd-Frank amendments to emergency lending authority under FR Act: By Federalreserve (D810018) [Public domain], via Wikimedia Commons
© 2016 Benzinga.com. Benzinga does not provide investment advice. All rights reserved.
Source