International Business Machines Corp IBM is rapidly becoming a preferred provider of Blockchain technology globally, as evident from its recent deal wins and collaborations.

IBM was recently selected by the Digital Trade Chain Consortium – a group of seven European Bankers – to develop and host a Blockchain-based platform based on Hyperledger Fabric. The platform will help in simplifying trade financing transactions for small-and medium-sized enterprises (SMEs) in Europe.

The company has also partnered Japan-based AEON Financial Service and Colombia-based AOS to develop Blockchain-based solutions to serve the Asian financial market along with Colombian logistics and transport industry, respectively.

We note that IBM won 40 new Blockchain contracts in first-quarter 2017. Further, the company was working on more than 400 Blockchain processes with customers like Maersk, Northern Trust and others. The plethora of contract wins and partnerships will drive IBM's top-line growth going forward.

International Business Machines Corporation Revenue (TTM)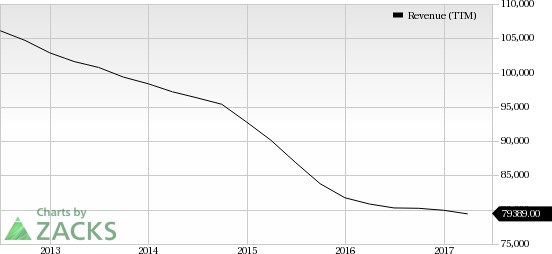 International Business Machines Corporation Revenue (TTM) | International Business Machines Corporation Quote
Blockchain Adoption to Drive IBM's Growth

Lately, Blockchain technology has gained significant acceptability among financial providers due to its speed and security. Blockchain is much faster than legacy technologies in completing a transaction as there is no need for manual processing or authentication by intermediaries.

Moreover, each block in a Blockchain represents an electronic record that cannot be revised or tampered with once it has been included in the chain. Additionally, each block has its own timestamp and a link to an earlier block in the chain, which provides all the parties easy access to information through a secure network.

We believe that Blockchain's growing adoption as a mainstream technology bodes well for IBM. This along with improving penetration of Watson, new system product launches in the second-half of 2017 and lower spending on systems development will boost profitability, which will eventually help the shares to rebound.

Notably, the stock has underperformed the S&P 500 on a year-to-date basis. While the Index gained 8.3%, the stock lost 6.4%.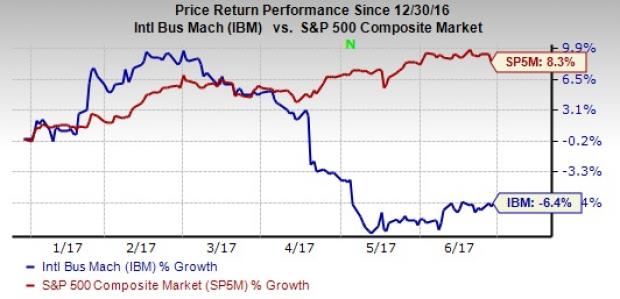 Per Business Insider, IBM is working with leading retailers like Walmart WMT to track everything from food safety, to pork production in China, and even mango shipments. Moreover, the company has endeavored into the insurance market. The company along with American International Group AIG and Standard Chartered PLC recently piloted a multinational insurance policy utilizing the Blockchain technology.

We believe that expanding usage of the technology in new end-markets provides significant growth opportunity for IBM. The company's ever-expanding intellectual property (IP) base is a key catalyst in this regard.

IBM's Robust Patent Portfolio – Key Catalyst

IBM's Blockchain technology is a private distributed ledger used by known and trusted partners on an invitation-only basis. The company is a premier member of the Linux Foundation Hyperledger Project that has 122 members including the likes of Bank of England, Federal Reserve Bank of Boston, American Express and Daimler among others.

Management is now focused on developing capabilities around the Blockchain technology by acquiring patents. We note that the company has received the most-number of patents in the last 24 years. IBM inventors received a record-breaking 8,088 U.S. patents during 2016, of which more than 2,700 patents were for inventions related to artificial intelligence (AI), cognitive computing and cloud computing.

Per Business Insider, IBM recently won a Blockchain patent for "consensus-based reputation tracking in online marketplaces." The system allows two verified users to endorse each-other after a digital transaction, and block anyone else. The patent has solid value as it can help in identifying and eradicate fake reviews in social-media sites like Yelp YELP.

Zacks Rank

Currently, IBM carries a Zacks Rank #4 (Sell).

You can see the complete list of today's Zacks #1 Rank (Strong Buy) stocks here.
Today's Stocks from Zacks' Hottest Strategies
It's hard to believe, even for us at Zacks. But while the market gained +18.8% from 2016 - Q1 2017, our top stock-picking screens have returned +157.0%, +128.0%, +97.8%, +94.7%, and +90.2% respectively.
And this outperformance has not just been a recent phenomenon. Over the years it has been remarkably consistent. From 2000 - Q1 2017, the composite yearly average gain for these strategies has beaten the market more than 11X over. Maybe even more remarkable is the fact that we're willing to share their latest stocks with you without cost or obligation. See Them Free>>
Want the latest recommendations from Zacks Investment Research? Today, you can download 7 Best Stocks for the Next 30 Days.
Click to get this free report
International Business Machines Corporation (IBM): Free Stock Analysis Report
Yelp Inc. (YELP): Free Stock Analysis Report
American International Group, Inc. (AIG): Free Stock Analysis Report
Wal-Mart Stores, Inc. (WMT): Free Stock Analysis Report
To read this article on Zacks.com click here.
Zacks Investment Research