"Summer is when refineries are all running hard, so actual demand for crude is as good as it gets," notes Citi's Seth Kleinman, London-based head of energy strategy, but U.S. crude futures have lost 30 percent since the start of June, set for the biggest drop since the West Texas Intermediate crude contract started trading in 1983.
That beats the summer plunges during the global financial crisis of 2008, the Asian economic slump in 1998 and the global supply glut of 1986.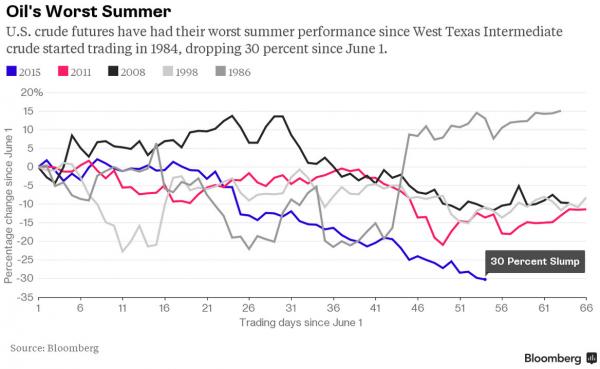 As Bloomberg reports, if crude's slump back to a six-year low looks bad, it's even worse when you reflect that summer is supposed to be peak season for oil.
 OPEC's biggest members are pumping near record levels to defend their market share and U.S. production is withstanding the collapse in prices and drilling.

 

The oil market is still clearly oversupplied and "it will get more so as refiners go into maintenance," Kleinman said.
*  *  *
Perhaps last night's flash crash is a sign of things to come...