Amazon's impending takeover of Whole Foods Market isn't the only thing weighing on grocers' spirits this Fourth of July holiday. As Bloomberg reports, booming meat supplies have sent ground-beef prices to three-year lows, squeezing food sellers' margins ahead of the top grilling day of the year, when 87% of US consumers are expected to barbecue.
What's worse, the surge in production has kept in-store prices low, while wholesale costs have risen.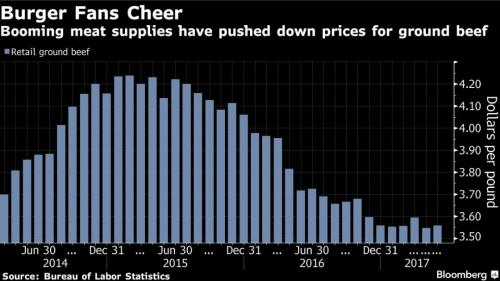 Here's Bloomberg with more:
"American beef production is expected to climb 4 percent this year to 26.292 billion pounds, the highest since 2010, the U.S. Department of Agriculture estimates. The gain comes as feed has stayed cheap for livestock producers, with corn futures falling for four straight years through 2016. Pork and chicken output will both reach records.

Higher output is helping to keep ground-beef prices low at the grocery store. Retail costs have stayed cheap even as wholesale costs climbed, signaling that consumers will likely enjoy lower bills for the next year and a half as production keeps expanding, said Chris Hurt, a professor of agricultural economics at Purdue University in West Lafayette, Indiana.

Wholesale beef is up 11 percent this year to $2.2473 a pound. By contrast, retail ground beef is unchanged since the end of last year at $3.559 a pound as of May, down 4.3 percent from 12 months ago, Bureau of Labor Statistics data show. Prices reached $3.547 in April, the lowest since January 2014."

Luckily, there are signs that the squeeze is easing as wholesale prices fell 8.5% last month, and further declines are expected as beef supplies dwindle during the traditional "summer lull" period.

"There's a lull in activity between Fourth of July and Labor Day," said Katelyn McCullock, a livestock economist at Washington-based American Farm Bureau Federation. "It can really impact the market."
With China reauthorizing US beef imports, foreign demand could soon siphon some of the excess supply from the US market.
"Demand is increasing for U.S. beef exports. In the four months through April, shipments were 20 percent higher than a year earlier, according to data from the U.S. Meat Export Federation. The increases could continue as China has restarted imports of U.S. beef, lifting a ban in place since 2003.

At the same time, the U.S. suspended all fresh beef imports from Brazil amid food-safety concerns. That could tighten up domestic supplies.

The growth in domestic and foreign demand may help to boost cattle futures later this year, according to Societe Générale SA. The bank forecasts prices to average $1.30 in the third quarter and $1.25 in the fourth, compared with Friday's close at $1.163."
Beef isn't the only staple items are also cheaper for barbecues. Pork chops, ice cream, white bread and chips are all cheaper than they were last year. Bloomberg estimates that the average 10-person cookout will cost about $5.70 per head, down about 1 percent from last year.
Wal-Mart is trying to compensate for the low prices – while also pushing back against intensifying competition from discount grocers like German-owned Aldi - by focusing on providing higher-quality meat, while also offering services like curbside pickup that make shopping for groceries more convenient. In a separate story, Bloomberg reports that Wal-Mart Stores Inc. has upgraded its beef to certified Angus across the U.S., having worked with meat giants including Tyson Foods Inc. and Cargill Inc. to secure a supply of Angus steaks and roasts at no additional cost to consumers, even as rising demand for Angus cuts, which tend to be fattier and juicier, has caused the premium to rise in recent years.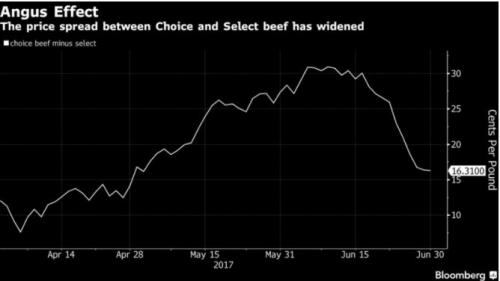 "All purveyors of food are being forced to step up their game," said Bill Lapp, president of consulting firm Advanced Economic Solutions. "There is such disruption in the grocery store sector that you have to do something."
Of course, low cattle futures prices will fluctuate as weather, supply and shifting consumer tastes evolve. The real long-term threat butchers are facing is from meat substitutes that taste increasingly like the real thing – like this burger made from pea protein.
It definitely looks like the real thing, at least.