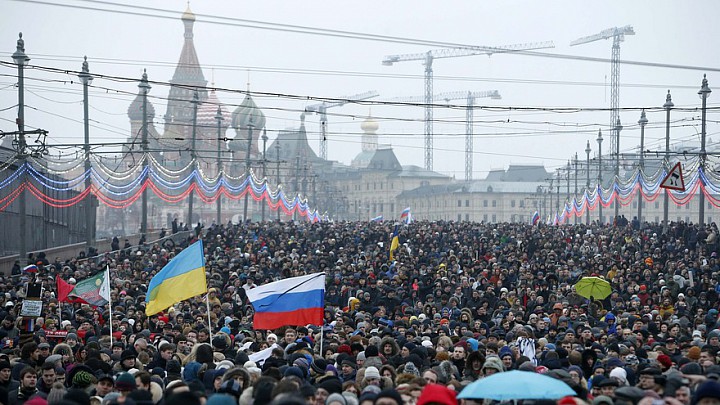 Reuters
People hold Ukrainian and Russian national flags during a march in Moscow to commemorate Kremlin critic Boris Nemtsov, who was shot dead on Friday night.

Thousands of Russians gathered in downtown Moscow for a march in memory of opposition leader Boris Nemtsov, who was shot dead just steps from the Kremlin Friday night.
Carrying the Russian tricolor, flowers and signs with pictures of the slain politician and slogans including "propaganda kills," somber-faced participants crowded amid tight security toward the spot where Mr. Nemtsov was killed as he walked across a bridge from Red Square.
Mr. Nemtsov, 55 years old, had been a fixture in Russian politics for more than two decades, reaching the pinnacle of power in the 1990s on the wave of democratic and economic reforms and gradually pushed into opposition under President Vladimir Putin , who Mr. Nemtsov harshly criticized in recent years. His murder was the highest-profile political killing in Russia in years.
"Boris' tragic death will be a watershed for our civil society," Mikhail Kasyanov, a former prime minister and longtime ally of Mr. Nemtsov who led the march, told reporters. "I'm sure that in the course of the next few months the situation in the country will start changing."
But it was far from clear whether the murder would invigorate the country's beleaguered opposition or ultimately serve to further intimidate Kremlin opponents. Mr. Nemtsov and other regime critics had originally planned a protest march for Sunday to call for political liberalization and an end to the war in Ukraine, but that was canceled and replaced with the memorial march after the murder. Organizers had said they didn't expect major turnout for the originally planned protest march, given strong public support for the Kremlin's policies and widespread disillusionment with the opposition's failures in recent years to gain political traction.
An expanded version of this report appears on WSJ.com.