As events unfold that have to be seen to be be believed in Belgian capital Brussels, European farmers - protesting plunging food prices, blamed on Russia's food embargo, which was retaliation to Europe and US sanctions - are demanding EU intervention to bail them out. What was originally a parade of tractors quickly turned violent as farm equipment rammed police barricades and police released tear gas and water jets in response to the farmers unleashing their "hay cannon." Boomerang anyone?
It all started peacefully...
Ils sont là, Porte de Saint-Cloud.

https://twitter.com/hashtag/Paris?src=hash

https://twitter.com/hashtag/agriculteurs?src=hash

pic.twitter.com/4SUf5oGRGy

— Emilie Tran Nguyen (@EmiliETN)

https://twitter.com/EmiliETN/status/639367590746419200
But soon turned violent...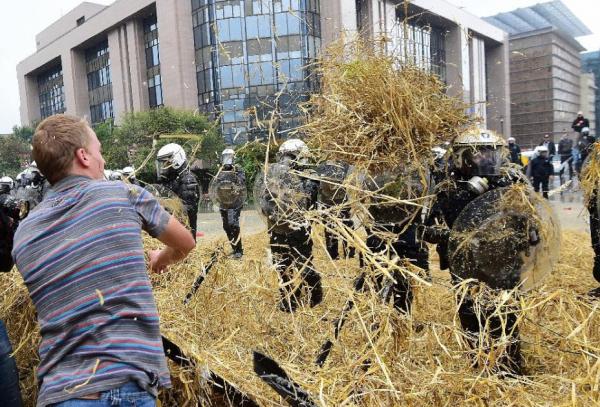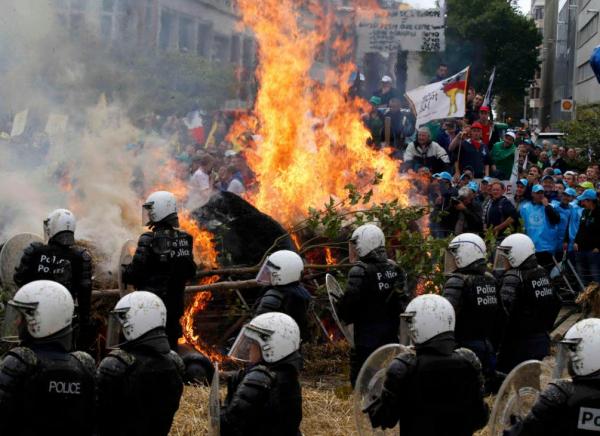 https://twitter.com/hashtag/Manifestation?src=hash

des

https://twitter.com/hashtag/agriculteurs?src=hash

à

https://twitter.com/hashtag/Bruxelles?src=hash

pic.twitter.com/UdHkUVnKjf

— Guillaume Moreno (@Guill_Moreno)

https://twitter.com/Guill_Moreno/status/640908525942779904
And then the farmers unleashed the "hay cannon"...
And out came the tear gas...
Belgian police on Monday fired water cannon at European farmers who lobbed hay and fireworks as they demanded EU intervention against plunging food prices partly blamed on a Russian embargo.

 

The European Commission said it would release 500 million euros ($557 million) in emergency funds to help ease the pressure on farmers, as agriculture ministers held crisis talks on the situation.

 

The protest involved what organisers said was up to 6,000 farmers, who blocked streets in Brussels with hundreds of tractors, who targeted the heavily-guarded European Union headquarters where the talks took place.

 

Police briefly fired water cannon at protesters as farmers used a machine to shoot hay at police, AFP reporters said. Protesters also hurled eggs and set fire to planks of wood and tyres, sending thick black smoke wafting over EU buildings.

 

A combination of factors, including changing dietary habits, slowing Chinese demand and a Russian embargo on Western products in response to sanctions over the Ukraine conflict, has pushed down prices for beef, pork and milk.

 

"We are here today to demand EU action," Albert Jan Maat, president of European farmers association Copa, told reporters outside the ministers meeting in central Brussels.
*  *  *
We leave it to the farmers coop leader to summarize...
"EU farmers are paying the price for international politics," he said, adding the Russian embargo hit the EU's main export market which is worth 5.5 billion euros.

 

...

 

"There have been hundreds of suicides as a result of disastrous agricultural policies," said Remy Hulin, a retired farmer from the Calvados region of northern France carrying an effigy in farmer's overalls hanging from a gallows.
*  *  *
Another unintended consequence of foreign policies that Washington and Brussels apparently did not see coming...