If earnings are the "mother's milk" of equity market returns, then stocks are about to turn sour (that is of course if fundamentals have anything whatsoever to do with it anymore). As we detailed previously, Q4 is shaping up to be the worst in years, and with next week seeing the bulk of names (36% of the S&P 500) reporting (including many of the biggest belwethers and major energy firms), we suspect the 2014 EPS chart below (and the already collapsing consensus expectations for 2015 earnings) will continue to plummet.
Q4 Operating EPS is tracking 3% below consensus estimates at the start of the quarter... and has utterly cratered in recent weeks...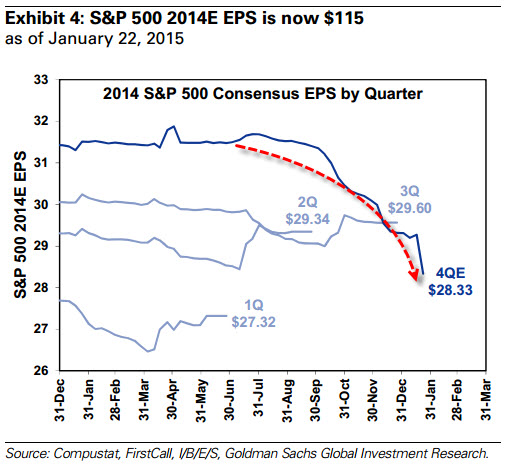 And looking forward, things are getting worse...Consensus 2015 EPS and sales fell another 0.7% during this week
Negative revisions to Energy expectations led the charge with EPS estimates falling 7% and sales falling 5%.

 

Consumer Discretionary, Telecom Services, and Materials earnings estimates each fell 1%.

 

Only the Health Care sector reported positive revisions to 2015 estimates (+0.8%).
As we noted previously, it appears that the "unambiguously good" crash in oil prices is finally becoming quite prominently bad, and since it can't be swept under the rug any more, will manifest itself in not only a major miss to aggregate Q4 earnings, but what now appears to be a decline in revenues, and soon, earnings in coming quarters and for all of 2015! From Factset:
For Q1 2015 and Q2 2015, analysts are currently predicting revenue growth rates of 0.3% and -0.3%. These revenue growth rates are also below the estimated growth rates of 1.6% and 1.0% for these same two quarters back on December 31.

 

For Q1 2015 and Q2 2015, analysts are currently predicting earnings growth rates of 1.8% and 3.2%, respectively. These earnings growth rates are below the estimated growth rates of 4.0% and 5.2%
We fully expect quarterly revenues and EPS in 2015 to not only end up missing expectations, but to also post negative prints Y/Y when the full collapse of the shale sector flows through the income statement some time in the current quarter, not to mention the already stark slowdown of the US export sector now that both Japan and Europe are engaging in unprecedented currency destruction which will lead to a depressed earnings (and revenue) state which will persist throughout the end of the year and certainly until the Fed admits the pipe dream about a rate hike was just that. But for now, this is how forward EPS are shaping up.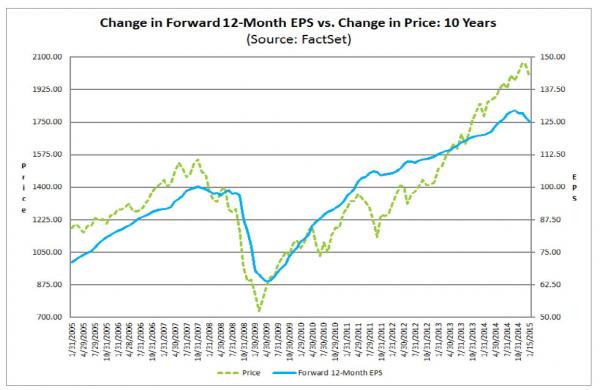 As the chart above show, the drop in forward EPS - while still somewhat muted - has already suffered its biggest decline since Lehman. Should the current EPS stagnation persist, or worse accelerate, then it will be increasingly difficult to justify a bullish S&P growth thesis, based on multiple expansion alone.
As a final reminder, some time just before the Lehman failure, forward EPS were tracking at 100. A few months later the number dropped by 40%. So for all those who are using the current forward 12 month P/E ratio of 16.5x, a number which is well above the 5- and 10-year average forward PE of 13.6x and 14.1x as a benchmark for cheapness, be very careful.