Citigroup reported quarterly earnings and revenue that easily beat analysts' expectations on Friday.
The company posted second-quarter earnings per share of $1.24, compared with $1.51 a share in the year-earlier period. Revenue for the quarter came in at $17.548 billion, against the comparable year-ago figure of $19.158 billion.
The company's stock rose about 1 percent in premarket trading.
Analysts had expected Company to report earnings of about $1.10 a share on $17.469 billion in revenue, according to a consensus estimate from Thomson Reuters.
C in 2016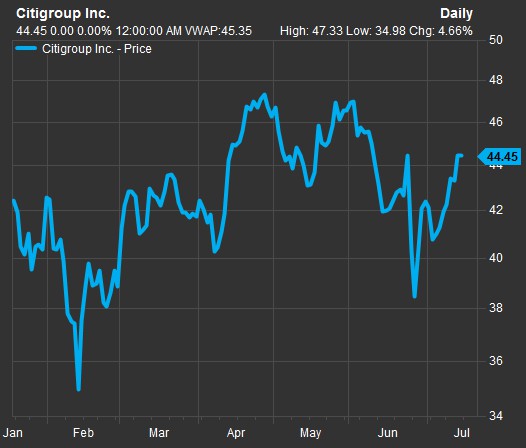 Citigroup also said it repurchased 30 million common shares, returning $1.5 billion to shareholders.
"Nearly all of our net income came from our core businesses and we continued to reduce non-core assets in Citi...
More